The Consequence Remains by Robert Socha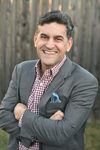 The enemy of our souls has been harassing mankind ever since that serpent first beguiled Eve. His tactics are always very similar, "you will not surely die." The consequence remains.
I have been thinking and writing extensively about the cataclysmic events (related to a worldwide collective's Chinese scapegoat) that have eclipsed rational thought and common sense, thrusting a submissive population into the first fruits of the Mark. The religious fervor stoking the fires of compliance has unequivocally followed an historic pattern.
Just as Nebuchadnezzar forced "all the peoples, nations and languages" (Daniel 3) to fall down and worship the golden image he set up, we too have fallen prey to malicious necromancers demanding obedience to unrighteous decrees.
It is unrighteous to demand compliance to facial obfuscation!
It is unrighteous to compel mass injections, especially those with unknown long-term effects!
It is unrighteous to isolate. The human condition necessitates community!
It is unrighteous to call for special papers to travel or engage in commerce!
It is blasphemous to follow unrighteous decrees blindly!
The Bereans were nobler (Acts 17) because they would examine the Scriptures daily to see if the things Paul was telling them were so. It would bode well for us to emulate their example in our response to the rhetoric concerning 19. (Some alternative sources provided here: one,two.)
I take solace in the courage three young men exhibited in response to an unrighteous decree many millennia ago. I hope you are familiar with the account of their refusal to bow to the golden image mentioned above when they were arrested and brought before the king, subjected to the harshest of punishments, a death sentence by fire. I have often wondered at their wherewithal to reject what the whole world had abjectly submitted.
Discussing some of these unrighteous decrees with my sister, I learned of the Midrash, an exegesis of Jewish thought and texts. In these writings, Abraham defies Nimrod by destroying his gods and being thrown into a fire as punishment. The Lord saved Abraham from the furnace.
Could it be these three, Chananiah, Mishael, and Azariah in Daniel (their slave names: Shadrach, Meshach, and Abednigo), could draw courage from this oral tradition to defy a king? It is exciting to think they drew from Abraham's precedent in their bold statement opposing king Nebuchadnezzar, "if this be so, our God whom we serve is able to deliver us from the burning fiery furnace, and he will deliver us out of your hand, O king. But if not, be it known to you, O king, that we will not serve your gods or worship the golden image that you have set up." (Daniel 3:17-18) This confidence in Adonai's consistency and the ability to deliver them while steadfastly willing to lay down their lives inspire.
Let us take courage from this model and press on toward the goal. Knowing that God, "Jesus Christ is the same yesterday and today and forever" (Hebrews 13:8), steels our resolve to defy a king spewing unrighteous decrees. Take heart that God's deliverance of both Abraham and the three young men from fiery deaths can deliver us from nonsensical edicts and walk with us in the midst of them.
About the Author
Robert Socha, BIO Robert Socha (so-ha), was born in southern California. He served 5 years 3 months active duty in the United States Air Force; honorably. After his service he took an Associate's Degree in Practical Theology, where, through his studies, developed a deep love of God and Country and sincere appreciation of the value of Liberty. Robert and his beloved wife of 21-plus years are raising 4 beautiful Texan children. They moved to Hillsdale, Michigan, in 2013, to put their children in Hillsdale Academy. Robert is a sales professional. He and his wife consider Michigan a hidden gem, and absolutely love this city and state (current political environment notwithstanding) they've adopted.