The Cruelest Thing To Say When Someone Dies – Sunday Thought For The Day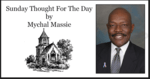 When trying to comfort someone who has had a loved one die, especially after suffering from prolonged illness, a person, maybe even a minister, invariably will make the observation: "Well, They're in a better place now?" Perhaps we've said that very thing about someone ourselves.
However, unless the person who has died truly accepted Jesus Christ as their Savior when they were alive, they are not in a better place when they are dead.
We deceive ourselves and others when we voice those words about someone who has suffered terrible illness and/or disease before dying, if they were not saved in this lifetime.
The worst thing about saying something so patently false about a person who has died without accepting Christ as their Savior, is when platitudes are spoken claiming them to have been "such a good person."
The Word of God makes it unambiguously clear that no one is good apart from blood of Christ. The scriptures make it unwaveringly clear that a person can only be saved while they are alive. After we are dead it's too late to accept the Lord.
We do inestimable injustice to our friend(s) or loved ones, when we say something so patently false about someone who has died without having received Christ as their Savior.
A person makes the cruelest of choices to suffer debilitating illness or disease here on earth, only to die and spend eternity in the immeasurable pain and suffering of hell and separation from God.
It is a fact that every person who died without having had their sin forgiven by accepting Jesus Christ as their personal Savior, is not in a better place. It is a fact that they are in the absolute worst place they will ever be, and they will be there for all of eternity.
The only way to be "in a better place" when we die, is to accept Jesus Christ as our Savior while we are alive.
READ: Romans 3:10-12; 23-28 (KJV)
10 As it is written, There is none righteous, no, not one:
11 There is none that understandeth, there is none that seeketh after God.
12 They are all gone out of the way, they are together become unprofitable; there is none that doeth good, no, not one.
23 For all have sinned, and come short of the glory of God;
24 Being justified freely by his grace through the redemption that is in Christ Jesus:
25 Whom God hath set forth to be a propitiation through faith in his blood, to declare his righteousness for the remission of sins that are past, through the forbearance of God;
26 To declare, I say, at this time his righteousness: that he might be just, and the justifier of him which believeth in Jesus.
27 Where is boasting then? It is excluded. By what law? of works? Nay: but by the law of faith.
28 Therefore we conclude that a man is justified by faith without the deeds of the law.
About the Author
Mychal S. Massie is an ordained minister who spent 13 years in full-time Christian Ministry. Today he serves as founder and Chairman of the Racial Policy Center (RPC), a think tank he officially founded in September 2015. RPC advocates for a colorblind society. He was founder and president of the non-profit "In His Name Ministries." He is the former National Chairman of a conservative Capitol Hill think tank; and a former member of the think tank National Center for Public Policy Research. Read entire bio here