The "End Times" Have An End – Sunday Thought For The Day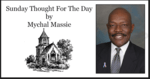 While it's true we've been living in the period called the "end times" since Christ ascended, let there be no doubt that this period is going to come to an abrupt end.  If the Apostle Paul was able to say over 2,000 years ago: "…for now is our salvation nearer than when we believed," (Romans 13:11 KJV) – how much more eminent is Christ's return today?
The close of the "end times" occurs when Christ returns in the air to receive His own unto Himself, i.e., rapture.  There's no doubt that the reality of this event was clearly understood and believed by the Apostles and the early Church.  It's clear that the Apostle Paul had the expectation of witnessing the second coming of Christ Jesus in his lifetime.
This brings me to my point.  The Apostle Matthew tells us in his gospel that Christ was moved with compassion when He looked on the wayward multitudes and instructed His disciples to pray that Lord of the Harvest would send labourers into His harvest.
A true Christian has compassion for the unsaved and  needy.  I'm not speaking of social need.  I'm speaking of spiritual need.  A fact that many who claim to be Christians are oblivious to.
Does it grieve you that people who call themselves Christians are more consumed with politics than they are reaching the unsaved.  Does it grieve you that parents bring their children to church, but they care more about their child's athletic prowess than they do the child being saved.  I know a father who brings his family to church every Sunday, but ignores the fact that his oldest daughter completely disassociates herself from all things Christ Monday through Saturday by her own admission.
Church people will go whole hog into feel good social-ministries, but never share their faith with co-workers or neighbors.  How many reading this have invited a co-worker to church or a neighbor to attend church with them?   How many mothers and daughters are more interested in standing in front of Walmart panhandling Girl Scout Cookies than they are praying together?
As Christians we must be most concerned about reaching people for Christ in the time that remains.  We must be more concerned about eternity than the next election.
My friends, this age of grace is hastening to an end.  The return of Christ is eminent.  We need to remember that we cannot change the laws of God.  Christ came to change hearts and He instructed us to reach people with the truth of His Word specifically to that end.  Christ did not come to change government or to be involved in the world.
This should be a call to examine ourselves before God to see if we are in the faith.  Three things are for certain: 1) we don't want to stand ashamed before God; 2) we don't want to left behind when the rapture takes place; and 3) hell is real and it's singularly the absolute last place anyone should want to spend eternity.
READ:
Romans 13:11-14 KJV
11 And that, knowing the time, that now it is high time to awake out of sleep: for now is our salvation nearer than when we believed.
12 The night is far spent, the day is at hand: let us therefore cast off the works of darkness, and let us put on the armour of light.
13 Let us walk honestly, as in the day; not in rioting and drunkenness, not in chambering and wantonness, not in strife and envying.
14 But put ye on the Lord Jesus Christ, and make not provision for the flesh, to fulfil the lusts thereof.
About the Author
Mychal S. Massie is an ordained minister who spent 13 years in full-time Christian Ministry. Today he serves as founder and Chairman of the Racial Policy Center (RPC), a think tank he officially founded in September 2015. RPC advocates for a colorblind society. He was founder and president of the non-profit "In His Name Ministries." He is the former National Chairman of a conservative Capitol Hill think tank; and a former member of the think tank National Center for Public Policy Research. Read entire bio here