The Exactness of God's Word – Sunday Thought For The Day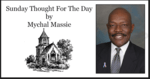 Earlier this past week a friend wrote me saying: "Sad we are headed in this politicized, ignorant direction however, as predicted in some few books about the 8 stages of the rise and fall of civilizations, we see the stage we are in.  Satan, the great deceiver, is hard at work and many are believing the lie."
I responded back saying: "My friend…I will share with you that this is not a time to despair but to rejoice in the certainty and factuality of the Word of God.  Everything we are seeing has been prophesied.  Additionally, everything we are witnessing is happening in the time frame delineated in scripture.  We are seeing the exactness of God's Word.  This is proof of God's truth that should make us say hallelujah, because if this truth is true, and it obviously is, how much more cause to believe God's Word when we are told we will not go through what the world goes through during the great tribulation."
Seeing these things come to pass is wonderful assurance that all of God's Word is true and exact.  As born-again Christians we must learn to trust the Word of God and not be alarmed by what is going on around us and throughout the world.
It is those who do not know Christ as Savior who should worry and despair.  Because if we are witnessing the truth of God's Word, then that same truth does not bode well for those who reject Christ as it pertains to where they will spend eternity.  Share that with someone you know who is unsaved.
READ:
Psalm 19 KJV
1 The heavens declare the glory of God; and the firmament sheweth his handywork.
2 Day unto day uttereth speech, and night unto night sheweth knowledge.
3 There is no speech nor language, where their voice is not heard.
4 Their line is gone out through all the earth, and their words to the end of the world. In them hath he set a tabernacle for the sun,
5 Which is as a bridegroom coming out of his chamber, and rejoiceth as a strong man to run a race.
6 His going forth is from the end of the heaven, and his circuit unto the ends of it: and there is nothing hid from the heat thereof.
7 The law of the Lord is perfect, converting the soul: the testimony of the Lord is sure, making wise the simple.
8 The statutes of the Lord are right, rejoicing the heart: the commandment of the Lord is pure, enlightening the eyes.
9 The fear of the Lord is clean, enduring for ever: the judgments of the Lord are true and righteous altogether.
10 More to be desired are they than gold, yea, than much fine gold: sweeter also than honey and the honeycomb.
11 Moreover by them is thy servant warned: and in keeping of them there is great reward.
12 Who can understand his errors? cleanse thou me from secret faults.
13 Keep back thy servant also from presumptuous sins; let them not have dominion over me: then shall I be upright, and I shall be innocent from the great transgression.
14 Let the words of my mouth, and the meditation of my heart, be acceptable in thy sight, O Lord, my strength, and my redeemer.
About the Author
Mychal S. Massie is an ordained minister who spent 13 years in full-time Christian Ministry. Today he serves as founder and Chairman of the Racial Policy Center (RPC), a think tank he officially founded in September 2015. RPC advocates for a colorblind society. He was founder and president of the non-profit "In His Name Ministries." He is the former National Chairman of a conservative Capitol Hill think tank; and a former member of the think tank National Center for Public Policy Research. Read entire bio here