The Key To Godly Prayer – Sunday Thought For The Day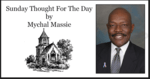 Mark 1:22 (KJV) brings to mind an experience I had my first year in bible college as I started the academic requirements for ministry.  It was the oneness with God that a Pastor from a church that sent students to our campus prayed when he led chapel services.  The first time I heard this Pastor pray, I knew there was something more needed than the regurgitation of petitions or just the expulsion of words without substance.
Mark 1:22 (KJV) reads: "And they were astonished at his doctrine: for he taught them as one that had authority, and not as the scribes."  Specifically, not as "their Scribes" as it reads in the Syriac, Persic, and Ethiopic versions.  Jesus did not base or establish what he was teaching on the authority of the Rabbins, as the Scribes did, i.e., stating that Hillell says so, or Shammai says thus, or such a doctor of the law says thus and thus.  Jesus spoke as from himself, as one sent of God, that had an authority from Him, that was independent of man, which was what they hadn't observed in others.
Such was the feeling for me every time I heard the Pastor I referenced pray.  I wanted to pray with the soteriological and relational confidence and yet humility with which he interacted with my God and Savior.  I wanted to know that presence of my Lord.
The teaching of the scribes was ostensibly second-hand. They simply repeated the decisions of previous Rabbis. But, our Lord's teaching was absolute and independent.  His formula was not "It hath been said," but rather, His was "I say unto you." 
I realized that my prayer life was only as effectual as my relationship with my God and Savior by faith.  And, therein is the key to an effective prayer life.
The Pastor, whose prayer(s) so captured my spirit, were born out of a special relationship with God.  His prayers were based upon his love, his belief and his complete trust in God.  It was born out of his absolute and unconditional faith in God.
I determined that I wanted that kind of relationship with our (his and mine) God.  I wanted to live my life constantly abiding in Christ.  I wanted to always sense the presence of my God with the confidence that Pastor had.
We cannot have an effective prayer life without a committed life in Christ.  Whenever I hear people say I pray every night before bed, I wonder just who it is they are praying to.  The persons I reference have rejected Christ as their Savior.  They believe in self, to the complete exclusion of the will of God in their pursuits.  So exactly who or what are they praying.  Also, if we do not expect and believe God will answer our prayers, why bother praying?
I never told that Pastor how his silent witness impacted my spiritual life; but I've never forgotten him. But, God knows.  And, I know that God will reward him for his faithful witness.
I want to know the presence of the Lord in my life every waking hour.  I want my thought life and heart life to be right with God.  I want Him to guide every facet of my life.
To believe there's a God is one thing; to believe in God is another.
READ:
Psalm 17:1-8 KJV
1 Hear the right, O Lord, attend unto my cry, give ear unto my prayer, that goeth not out of feigned lips.
2 Let my sentence come forth from thy presence; let thine eyes behold the things that are equal.
3 Thou hast proved mine heart; thou hast visited me in the night; thou hast tried me, and shalt find nothing; I am purposed that my mouth shall not transgress.
4 Concerning the works of men, by the word of thy lips I have kept me from the paths of the destroyer.
5 Hold up my goings in thy paths, that my footsteps slip not.
6 I have called upon thee, for thou wilt hear me, O God: incline thine ear unto me, and hear my speech.
7 Shew thy marvellous lovingkindness, O thou that savest by thy right hand them which put their trust in thee from those that rise up against them.
8 Keep me as the apple of the eye, hide me under the shadow of thy wings,
About the Author
Mychal S. Massie is an ordained minister who spent 13 years in full-time Christian Ministry. Today he serves as founder and Chairman of the Racial Policy Center (RPC), a think tank he officially founded in September 2015. RPC advocates for a colorblind society. He was founder and president of the non-profit "In His Name Ministries." He is the former National Chairman of a conservative Capitol Hill think tank; and a former member of the think tank National Center for Public Policy Research. Read entire bio here