The Law of Divine Retribution: A Reflection – Sunday Thought For The Day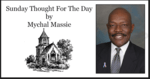 People are being led astray and being persuaded to embrace lies that Christ Himself warned against by false teachers, specifically during this time of riot and misplaced anger. False preachers are promoting solidarity with the loss and unsaved claiming this social behavior is Christian. Unfortunately, they ignore the fact that wicked sinful behavior results in bad outcomes; and often at the hand of another person. This put me in mind of 'The Law of Divine Retribution.' Chapter 72, in my new book entitled 'I Feel The Presence of The Lord.'
Theologian Charles Ellicott tells us there is a great law of Divine retribution, which is: "The punishment for sin being often a greater facility in sinning, indifference to God becoming enmity and forgetfulness of duty or truth becoming violent recoil from both."
The noted Methodist theologian, Joseph Benson, who John Wesley personally appointed as classical master at Kingswood School, explained the great law of Divine retribution in referencing Hosea 8:7, "For they have sown the wind, and they shall reap the whirlwind" (KJV), as: "A proverbial expression, to signify, that as men's works are, so must their reward be."
I mention this to make the following point: Biblical ignorance, and worst still, biblical illiteracy, leads those who profess to know Christ as Savior to despair, doubt and to be filled with fear.
How often do we see and hear those who profess to be Christians wringing their hands and espousing jeremiads of despair and fear because the world is increasingly evil and wicked?
Those embracing such feelings as if they were symbols of piety don't understand the reality of Divine retribution.
It's important that we realize and understand that sin begets sin and more sin begets the demonic thirst to indulge in more sin (i.e., repeated wicked acts become unquenchable thirsts). This is graphically spelled out in Romans 1:21-24 (KJV).
The Apostle Paul tells us: "But he that doeth wrong shall receive for the wrong which they have done, and there is no respect of persons." (Colossians 3:25 KJV)
The secret that Satan blinds us to is: Sin blinds us to sin—and the deeper we fall into sinful behavior and sinful lifestyles, the more we crave them. This is an important factor that is often overlooked in the Apostle Paul's witness to Timothy in 1 Timothy 1:19-20 (KJV). In delivering Hymenaeus and Alexander (the coppersmith) unto Satan for the purpose of learning not to blaspheme, Paul was in effect giving them a purview of their end (i.e., "Divine retribution") if they did not repent and turn back to God.
We do well to understand that sin is like a fire spread by strong winds. The sin of a few often results in the sin of many exponentially. If you are experiencing hardships that it seems you cannot get away from, it might be God trying to get your attention to prevent you from receiving reward based upon willful disobedience and defiance.
READ: 1 Corinthians 2:12-16 (KJV)
12 Now we have received, not the spirit of the world, but the spirit which is of God; that we might know the things that are freely given to us of God.
13 Which things also we speak, not in the words which man's wisdom teacheth, but which the Holy Ghost teacheth; comparing spiritual things with spiritual.
14 But the natural man receiveth not the things of the Spirit of God: for they are foolishness unto him: neither can he know them, because they are spiritually discerned.
15 But he that is spiritual judgeth all things, yet he himself is judged of no man.
16 For who hath known the mind of the Lord, that he may instruct him? but we have the mind of Christ.
About the Author
Mychal S. Massie is an ordained minister who spent 13 years in full-time Christian Ministry. Today he serves as founder and Chairman of the Racial Policy Center (RPC), a think tank he officially founded in September 2015. RPC advocates for a colorblind society. He was founder and president of the non-profit "In His Name Ministries." He is the former National Chairman of a conservative Capitol Hill think tank; and a former member of the think tank National Center for Public Policy Research. Read entire bio here