The Most Important Improvement – Sunday Thought For The Day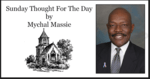 The following is an excerpt from my devotional book: "Alone With Jesus: How I Start Each Day."
There is a false narrative that goes:​ "Try to improve by 1 percent every
day. Within a year you will have improved by 365 percent."
It is a false narrative because it supposes the secular narrative that our life on earth is all that matters.
The most important "improvement" so to speak, a person can make is to know without question whether they will spend eternity in heaven with God or eternity in hell. Any so-called "improvement" apart from that, lasts only as long as you are alive, if that.
Think about this, my friends; if you were to die this exact minute, can you say with certainty whether you will spend eternity in heaven or hell? Life isn't guaranteed. You could die in an instant. I'm asking you this question as your friend.
There is one way to heaven. Despite what you may have heard and despite if you choose to believe too the contrary; Jesus Christ is the only way to eternal life in heaven. Apart from Him, one will have eternal life in hell.
READ:
John 14:6 Jesus saith unto him, I am the way, the truth, and the life: no man cometh unto the Father, but by me.
John 3:3 Jesus answered and said unto him, Verily, verily, I say unto thee, Except a man be born again, he cannot see the kingdom of God.
John 3:16 For God so loved the world, that he gave his only begotten Son, that whosoever believeth in him should not perish, but have everlasting life.
10
Acts 4:12 Neither is there salvation in any other: for there is none other name under heaven given among men, whereby we must be saved.
Ephesians 2:8 For by grace are ye saved through faith; and that not of yourselves: it is the gift of God:
9 Not of works, lest any man should boast. 10 For we are his workmanship, created in Christ Jesus unto good works, which God hath before ordained that we should walk in them.
About the Author
Mychal S. Massie is an ordained minister who spent 13 years in full-time Christian Ministry. Today he serves as founder and Chairman of the Racial Policy Center (RPC), a think tank he officially founded in September 2015. RPC advocates for a colorblind society. He was founder and president of the non-profit "In His Name Ministries." He is the former National Chairman of a conservative Capitol Hill think tank; and a former member of the think tank National Center for Public Policy Research. Read entire bio here