The Prescription For 'Standing Fast In The Lord' – Sunday Thought For The Day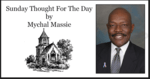 At the very end of the verse of Philippians 4:1, the Apostle Paul exhorts his brethren saying: "…So stand fast in the Lord, my dearly beloved." (KJV)
I love this portion of scripture for numerous reasons, not least of which because the verses of scripture subsequent to Philippians 4:1 have been of such comfort and reassurance to me over the years of my Christian life. I have found this passage to be one intended for correction and a reminder of how we as Christians are to behave. This passage of scripture also tells us that there was conflict between two women that wasn't being addressed properly, which if allowed to fester would threaten the unity of the Body of Christ at Philippi.
Paul also "entreated" the true followers of Christ, i.e., "True yokefellow" to help those who had labored with him in the spreading of the gospel in Philippi.
In this 23 verse chapter of the Book of Philippians, Paul tells the true followers of Christ at Philippi to be of the same mind in Christ; he reminds them of the mindset and character that is the secret to the peace of God; he puts them in mind once more, that as Christians our sufficiency is through Jesus Christ.
But more importantly, Paul tells us the mindset we who are true born-again children of God, are to have and think. Paul writes: "Finally, brethren, whatever things are true, whatever things are honest, whatever things are just, whatever things are pure, whatever things are lovely, whatever things are of good report; if there be any virtue, and if there be any praise, think on these things." (Philippians 4:8 KJV)
This verse is critical for true Christians if we are to walk and labor together as one in Christ to reach a dying and decadent world. This verse is also critical because I believe it is the prescription for despair.
If we are filling our minds with the word of God, focusing our thoughts on the eternal and immutable promises of our Heavenly Father, and "standing firm on His promise that "He will never leave us nor forsake us" (Hebrews 13:5 and Deuteronomy 31:6 KJV), we will not fall prey to doubt and despair based upon circumstances and the temporal things of this world.
True Christians belong to and serve the Creator of all there was, is and will be. We are the Children of God Almighty, who has and will keep every promise He has ever made to us. With that being the case, why would any true born-again child of God ever allow Satan and/or his demonic hordes to have us doubt the truth and promises of God?
The prescription for sound spiritual mental health and a Christ-centered character is that we stop complaining and starting praising our God, and that we fill our minds with the truths of Philippians 4:8, not the lies of the secular world we live in.
READ: Philippians 4:1-19 (KJV)
1 Therefore, my brethren dearly beloved and longed for, my joy and crown, so stand fast in the Lord, my dearly beloved.
2 I beseech Euodias, and beseech Syntyche, that they be of the same mind in the Lord.
3 And I intreat thee also, true yokefellow, help those women which laboured with me in the gospel, with Clement also, and with other my fellowlabourers, whose names are in the book of life.
4 Rejoice in the Lord always: and again I say, Rejoice.
5 Let your moderation be known unto all men. The Lord is at hand.
6 Be careful for nothing; but in every thing by prayer and supplication with thanksgiving let your requests be made known unto God.
7 And the peace of God, which passeth all understanding, shall keep your hearts and minds through Christ Jesus.
8 Finally, brethren, whatsoever things are true, whatsoever things are honest, whatsoever things are just, whatsoever things are pure, whatsoever things are lovely, whatsoever things are of good report; if there be any virtue, and if there be any praise, think on these things.
9 Those things, which ye have both learned, and received, and heard, and seen in me, do: and the God of peace shall be with you.
10 But I rejoiced in the Lord greatly, that now at the last your care of me hath flourished again; wherein ye were also careful, but ye lacked opportunity.
11 Not that I speak in respect of want: for I have learned, in whatsoever state I am, therewith to be content.
12 I know both how to be abased, and I know how to abound: every where and in all things I am instructed both to be full and to be hungry, both to abound and to suffer need.
13 I can do all things through Christ which strengtheneth me.
14 Notwithstanding ye have well done, that ye did communicate with my affliction.
15 Now ye Philippians know also, that in the beginning of the gospel, when I departed from Macedonia, no church communicated with me as concerning giving and receiving, but ye only.
16 For even in Thessalonica ye sent once and again unto my necessity.
17 Not because I desire a gift: but I desire fruit that may abound to your account.
18 But I have all, and abound: I am full, having received of Epaphroditus the things which were sent from you, an odour of a sweet smell, a sacrifice acceptable, wellpleasing to God.
19 But my God shall supply all your need according to his riches in glory by Christ Jesus.
About the Author
Mychal S. Massie is an ordained minister who spent 13 years in full-time Christian Ministry. Today he serves as founder and Chairman of the Racial Policy Center (RPC), a think tank he officially founded in September 2015. RPC advocates for a colorblind society. He was founder and president of the non-profit "In His Name Ministries." He is the former National Chairman of a conservative Capitol Hill think tank; and a former member of the think tank National Center for Public Policy Research. Read entire bio here