The Price For Welcoming Sin – Sunday Thought For The Day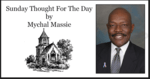 Sadly, in too many instances Christians are no different than the unsaved when it comes to marriage.  Their marriage is based upon lust not God's singular love for their intended mate.
Too often either the wife or the husband allows one mate or the other to bring things into the marriage that weren't a part of their Godly lifestyle before.
Solomon was an example of this, albeit he started out being blessed and gifted by God unlike any other man.  But, Solomon disobeyed his own advice written in the Books of Proverbs and Ecclesiastes regarding sexual immorality, adultery, allowing false gods and idol worship.  Even though both his Father King David and God had instructed him against such sinful practices.
It can be said that Adam, the first man God created was guilty of placing Eve his wife, on a pedestal.  Remember, the scripture writers tell us that Eve was deceived, but Adam willfully disobeyed, most likely, because he wanted to please her more than he wanted to obey his God.
Perhaps none are more unambiguous examples of the world and sin being welcomed into the Godly home than Lot.  Abram's father took Lot with him when he and his family left Ur of the Chaldeans.  After a period of time God told Abram to take his family and leave his country, his kindred, and his father's house, to move to another land where he would become a great nation.  Abram did as God instructed taking Lot with him also.
But, Lot was unable to keep the stain of the world from himself or from his family.  Abram gave Lot the choice of which part of the country he wanted to reside, and Lot chose far away from Abram facing the plain of the Jordan toward Sodom.  Lot was attracted to the lifestyle of the world.  At first Sodom and everything about the area was exciting to him.  Genesis 13:13 KJV tells us that the men of Sodom were exceedingly wicked and sinners, but that didn't avert Lot's desire to have his domicile located in that area.
We know the rest of the account.  Lot was elevated to a position of authority and as he sat in the gate of the Sodom two angels approached.  Lot invited them into his home and the men of Sodom being exceedingly wicked besieged Lot's home demanding that he let them have sexual relations with the strangers, not realizing they were angels.
We see how stained with wickedness and sin Lot had become when he not just offered, but begged the men of Sodom to have relations with his virgin daughters instead.
Lot and his family were told to flee God's destruction of Sodom and Gomorrah, and to not look back at the destruction God was sparing them from.  But, Lot's wife couldn't resist one last longing look back and she was immediately turned into a pillar of salt.  Lot's daughters were no less affected by the sin and wickedness, because of their father's embracement of the lifestyles of his day.  They got Lot drunk and then each slept with him reasoning the acts were justified, because there were no other men to marry and have children with in order to carry on their family lineage.
The point that I'm making is, there's a terrible price to be paid when we welcome sin and wickedness into our homes.  This is especially the case when Christians marry unwisely and/or make peace with one spouse or the other bringing sinful-worldly behavior into the home.  Be it alcohol or watching sexually-laced programming or embracing chosen lifestyles God condemns or joining fraternal groups/associations that are anything but God-honoring, etc.
As the Apostle Peter wrote: even though Lot was just and delivered, he was still vexed, i.e., wearied, grievously afflicted daily with the conditions of life and the lawless, sinful, lifestyles of the area he chose to settle in.  Ultimately we see his wife and children pay the price for his embracement of the world around him.
Ask yourself, if it is worth it to welcome and/or ignore sinful practices, because one thinks they are in love?
READ:
1 Kings 11:1-13 KJV
11 But king Solomon loved many strange women, together with the daughter of Pharaoh, women of the Moabites, Ammonites, Edomites, Zidonians, and Hittites:
2 Of the nations concerning which the Lord said unto the children of Israel, Ye shall not go in to them, neither shall they come in unto you: for surely they will turn away your heart after their gods: Solomon clave unto these in love.
3 And he had seven hundred wives, princesses, and three hundred concubines: and his wives turned away his heart.
4 For it came to pass, when Solomon was old, that his wives turned away his heart after other gods: and his heart was not perfect with the Lord his God, as was the heart of David his father.
5 For Solomon went after Ashtoreth the goddess of the Zidonians, and after Milcom the abomination of the Ammonites.
6 And Solomon did evil in the sight of the Lord, and went not fully after the Lord, as did David his father.
7 Then did Solomon build an high place for Chemosh, the abomination of Moab, in the hill that is before Jerusalem, and for Molech, the abomination of the children of Ammon.
8 And likewise did he for all his strange wives, which burnt incense and sacrificed unto their gods.
9 And the Lord was angry with Solomon, because his heart was turned from the Lord God of Israel, which had appeared unto him twice,
10 And had commanded him concerning this thing, that he should not go after other gods: but he kept not that which the Lord commanded.
11 Wherefore the Lord said unto Solomon, Forasmuch as this is done of thee, and thou hast not kept my covenant and my statutes, which I have commanded thee, I will surely rend the kingdom from thee, and will give it to thy servant.
12 Notwithstanding in thy days I will not do it for David thy father's sake: but I will rend it out of the hand of thy son.
13 Howbeit I will not rend away all the kingdom; but will give one tribe to thy son for David my servant's sake, and for Jerusalem's sake which I have chosen.
About the Author
Mychal S. Massie is an ordained minister who spent 13 years in full-time Christian Ministry. Today he serves as founder and Chairman of the Racial Policy Center (RPC), a think tank he officially founded in September 2015. RPC advocates for a colorblind society. He was founder and president of the non-profit "In His Name Ministries." He is the former National Chairman of a conservative Capitol Hill think tank; and a former member of the think tank National Center for Public Policy Research. Read entire bio here