The Real Work We Should Be Doing – Sunday Thought For The Day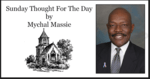 The past couple weeks I've been captivated by the verse Revelation 20:3 (KJV).  I've spent hours during this period ruminating and meditating upon the portion of this verse that reads: "…that he should deceive the nations no more…"
It's clear that this portion of the verse is referring specifically to the 1,000 years that he, i.e., Satan is shut up in the bottomless pit with a seal that was placed upon the "door" or "gate" of the prison, not because this would fasten the gate or door of itself, and make it secure, for this was secured by the key, but because it prevented intrusion, or any secret opening of it without its being known.  But, there is one point that we ignore at our own peril.
The point I reference is that during this specific period of time in the 'last days' leading up to his imprisonment, Satan deceives entire nations.  Not just, individuals as during the 'end times,' which is the period we are in now, but entire nations.  It will be a global deceiving.  This prophetic verse also makes clear that this is a fait accompli, i.e., it's going to be the case and there's nothing that will change it, because the world will have become so wicked.
Satan is a liar.  He's the father of lies and there's no truth in him.  He's also, as noted the deceiver.  He is deceiving people today about factuality of prophecy and God-given directives.  It's glaringly obvious.  There's no ambiguity per the instructions Christ gave during the days and hours before His ascension.  Notwithstanding, Satan is deceiving people today and blinding them.
The depth of blindness to Satan's deception is stunning.  It's even more stunning the lengths people who claim to be Christians will go to perpetuate his deception.  Even subverting the scriptures in an effort to validate their embracing Satan's deception.
During this age of grace we live in, the most important thing we're to be focused upon is reaching people for Christ.  In Matthew 9:36-37 (KJV), Jesus laments the fact that harvest is truly plenteous, but the laborers are few.  His instructions in verse Matthew 9:38 (KJV) are absolute. i.e., they're free from limitations, exceptions or restrictions.  And yet, despite the great weight of importance Jesus placed upon reaching people for Him, Satan has deceived people into believing we're to save America when in fact  there's no saving America or the world; we're to spend our remaining allotted time concentrating on reaching people for Christ.
How do we reconcile Isaiah 51:6 (KJV); Mark 13:31 (KJV); 1 Thessalonians 5:1-14 (KJV); 2 Peter 3:1-16 (KJV); Revelation 20:11-21:8 (KJV)?  Are we to truly believe that those verses do not mean what they say?  To believe that is biblical atheism.
In Matthew 28:18-20 (KJV) did Jesus say we should focus upon saving the Constitution and/or electing conservatives.  I'm not saying don't vote.  I am saying we must be values voters.  I'm saying that Christ made it clear: all those who truly believe in Him are to be about reaching people unto Salvation and making disciples.
But, Satan has deceived church leaders and Christians making them his blind participants in ignoring Christ's instructions.  Blinding people to the fact that the Word of God is be followed; we do not  pick and choose what parts we will follow.  And, we most certainly do not tell people to pray contrary to that which Christ prophesied.  We're to pray that America's leaders would be saved and govern righteously, not that God would spare America and the world.  Christ never said or even hinted that if we prayed the prophesied end could be changed.
It cannot be stressed enough; we remain here when saved to reach others with the gospel message of Christ.  Scripture doesn't say Christ came to change government or save government.  It does say however, that Christ came to change hearts.
Satan is adept at using whatever it takes to deceive.  We know this if we've read 2 Corinthians 2:11 (KJV); 2 Corinthians 11:3 (KJV).  He enlists the aid and assistance of those we trust, and through lust of the eyes and heart.  This is why we must take the warning of the Apostle in 1 Peter 5:8-9 (KJV) seriously.  It's why the Apostle warned us in 1 John 4:1 (KJV): "…believe not every spirit, but try the spirits whether they are of God; because many false prophets are gone out into the world."
A needed ministry is one focused on reaching the elected for Christ as the Apostle Paul did in Rome.  Imagine the testimony Obama and Laura Bush et al could have if they accepted Jesus Christ and began to share that they had repented of advocating the killing of babies and would spend the rest of their lives serving God working to save the unborn instead of killing them.  Imagine if Kevin McCarthy became a born again Christian and confessed that he had been misleading the public for ill-gotten gains and political benefit and spent the rest of his life working to reach others in office with the truth of Christ.
The late Chuck Colson did that when he became a born again Christian and founded Prison Fellowship.  I was blessed to know Chuck and he was a genuine Christian who accepted Christ and repented of his former life.  Just imagine if we spent our efforts praying and asking God to use us to reach more Chuck Colsons.
READ:
Psalm 119:33-40 KJV
33 Teach me, O Lord, the way of thy statutes; and I shall keep it unto the end.
34 Give me understanding, and I shall keep thy law; yea, I shall observe it with my whole heart.
35 Make me to go in the path of thy commandments; for therein do I delight.
36 Incline my heart unto thy testimonies, and not to covetousness.
37 Turn away mine eyes from beholding vanity; and quicken thou me in thy way.
38 Stablish thy word unto thy servant, who is devoted to thy fear.
39 Turn away my reproach which I fear: for thy judgments are good.
40 Behold, I have longed after thy precepts: quicken me in thy righteousness.
About the Author
Mychal S. Massie is an ordained minister who spent 13 years in full-time Christian Ministry. Today he serves as founder and Chairman of the Racial Policy Center (RPC), a think tank he officially founded in September 2015. RPC advocates for a colorblind society. He was founder and president of the non-profit "In His Name Ministries." He is the former National Chairman of a conservative Capitol Hill think tank; and a former member of the think tank National Center for Public Policy Research. Read entire bio here