The Resurrection of Christ Sustains Our Hope and Supplies Our Purpose – Sunday Thought For The Day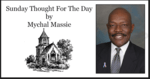 In the Gospel of Mark, he, as did the other Gospel writers makes clear that Jesus was dead when He was placed in the sepulcher.  In Mark 15:44-45, he tells us that even Pontius Pilate, who had ordered the execution of Jesus, took great care to make sure Christ was dead when He was placed in Sepulcher: 44 And Pilate marvelled if he were already dead: and calling unto him the centurion, he asked him whether he had been any while dead. 45 And when he knew it of the centurion, he gave the body to Joseph. (KJV)  
When the centurion reported back to Pilate that the body of Christ was lifeless; it was indeed lifeless.  Another proof was the fact that the followers of Jesus placed His body in the tomb and sealed it.  There was no way they were going to place Christ Jesus in the grave and seal it if He were unconscious, much less if He were alive.
Proof that He had been dead, was also evidenced by the shock the women who were the first to arrive at dawn the day after the Sabbath, with sweet spices to anoint His lifeless body.  They found the tomb unsealed with the massive stone rolled away from the entrance.
Unfortunately; what many who place their hope on who gets elected or what some program host has to say and/or their joy in who wins the big game ignore, is that the resurrection of our Lord sustains our hope.  He is risen is our victory cry.  If there were no resurrection there would be no triumph over death and the grave.  The assurance of the believer's eternity would be false.  Another point of importance is: The resurrection supplies us with our purpose, which is to share that Christ is risen from the grave.  We are to share the good news of the gospel of Christ.
Mark tells us that many did not believe the facts shared by the women and others.  It's important to note that today there remains many who do not believe Christ arose from that grave and there are those who do not believe witnessing and sharing Christ is our responsibility.
The unimpeachable truth is, that without the resurrection of our sinless Savior, who was crucified as a sacrifice for our sin, so that by His blood we can be saved, there would be no salvation.  And, with no salvation, there would be no hope of forgiveness of sin and an eternity with our Lord.
It's imperative that we who are saved by faith and believe that Jesus Christ the Son of God arose from the grave, was seen by many, ascended into heaven and is returning again first to rapture His Church of believers and finally to usher in eternal punishment and eternal reward – share these truths with others.
It is inexplicable to say we are saved and not share our testimony of salvation and the  grace of God through Christ in our lives.  If we do not believe Christ arose from the grave; if we do not believe the resurrection supplies us our purpose, which is to "go and tell;" the question that begs answering, is what makes us any different from those who openly reject Christ?
READ:
Mark 16:14-18 KJV
14 Afterward he appeared unto the eleven as they sat at meat, and upbraided them with their unbelief and hardness of heart, because they believed not them which had seen him after he was risen.
15 And he said unto them, Go ye into all the world, and preach the gospel to every creature.
16 He that believeth and is baptized shall be saved; but he that believeth not shall be damned.
17 And these signs shall follow them that believe; In my name shall they cast out devils; they shall speak with new tongues;
18 They shall take up serpents; and if they drink any deadly thing, it shall not hurt them; they shall lay hands on the sick, and they shall recover.
About the Author
Mychal S. Massie is an ordained minister who spent 13 years in full-time Christian Ministry. Today he serves as founder and Chairman of the Racial Policy Center (RPC), a think tank he officially founded in September 2015. RPC advocates for a colorblind society. He was founder and president of the non-profit "In His Name Ministries." He is the former National Chairman of a conservative Capitol Hill think tank; and a former member of the think tank National Center for Public Policy Research. Read entire bio here