The Spiritual Feast of Barmecide – Sunday Thought For The Day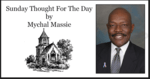 Many religions are synonymous with the "Feast of Barmecide," i.e., they are phony and empty.
According to a tale in "The Arabian Nights' Entertainments," a member of a noble family of Baghdad named Barmecide, was besought at his castle by a beggar, who had been days with out food.
The outer appearance of the castle was surrounded by magnificent gardens and landscaping befitting a man of his presumed wealth. Inside there were lavishly decorated rooms and seemingly every comfort the heart could need or want in order to be fulfilled.
Barmecide lured the beggar into his castle, by promising him a great feast consisting of the best foods, meats and wine awaited. However, upon being seated at the table, the beggar was served a meal of make-believe food and drink.
Barmecide gave a great performance of the imaginary food being served, pretending to carve and eat the meats and drink from the empty wine glasses. Fearing to offend, the beggar enjoined too, partaking of the imaginary foods and wine.
Depending upon which author you read this tale does have an instructive ending. That is not the case with false teachers/religions. They invite people into their folds promising spiritual fulfillment, but the result is a journey down the primrose path to a table of nothingness.
As a born-again child of God my eternal salvation is assured. I do not have to perform choreographed works and hope to receive favor after I die. I'm not required maim and kill people.
Jesus Christ forgave my sin and filled me with His Spirit. I am "guided into all truth;" I will never hunger for spiritual fulfillment again. I'm not just complete in Christ; I am a new man in Christ.
READ: John 6:31-35 (KJV)
31 Our fathers did eat manna in the desert; as it is written, He gave them bread from heaven to eat.
32 Then Jesus said unto them, Verily, verily, I say unto you, Moses gave you not that bread from heaven; but my Father giveth you the true bread from heaven.
33 For the bread of God is he which cometh down from heaven, and giveth life unto the world.
34 Then said they unto him, Lord, evermore give us this bread.
35 And Jesus said unto them, I am the bread of life: he that cometh to me shall never hunger; and he that believeth on me shall never thirst.
About the Author
Mychal S. Massie is an ordained minister who spent 13 years in full-time Christian Ministry. Today he serves as founder and Chairman of the Racial Policy Center (RPC), a think tank he officially founded in September 2015. RPC advocates for a colorblind society. He was founder and president of the non-profit "In His Name Ministries." He is the former National Chairman of a conservative Capitol Hill think tank; and a former member of the think tank National Center for Public Policy Research. Read entire bio here