The True Calling of The Church – Sunday Thought For The Day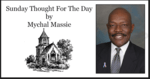 As we begin this New Year 2021, I am compelled to warn that the return of the Lord for His own is imminent.  It is closer than we can begin to imagine and as such there are a few things born-again Christians should keep in mind.
The Apostle Peter said: "For the time is come that judgment must begin at the house of God: and if it first begin at us, what shall the end be of them that obey not the gospel of God?" (1 Peter 4:17 KJV)
The calling of the church is to lead people out of the world.  This world is doomed and under judgement.  But being blind to that truth, we expend our energy and resources on that which has no beneficial eternal consequence, under the false belief that we're doing God's will.   Showing compassion is not meant to be synonymous with the errant belief we are to save the world; but I digress.
Recently my friend and Pastor discussed at length the words of Christ found in Matthew 7:13-14: 13 Enter ye in at the strait, [i.e., narrow] gate: for wide is the gate, and broad is the way, that leadeth to destruction, and many there be which go in thereat: 14 Because strait, [i.e., narrow] is the gate, and narrow, [i.e., hard] is the way, which leadeth unto life, and few there be that find it. (KJV)  
These words should cause every person who claims the name of Christ to: "Examine yourselves, whether ye be in the faith…" (See: 2 Corinthians 13:5-7 KJV)
The enemy of our souls has blinded many, if not indeed most, to the fact that we are not to be entangled in the affairs of this world, from the perspective of saving and changing the world.  That is a lie of the devil and it has caused many to unwittingly stumble.  So much so that they openly rebel and condemn those who dare remind them that is not the calling of the Church.  The mission and ministry of the Church, i.e., Christendom has always been: "…Go ye therefore, and teach all nations, baptizing them in the name of the Father, and of the Son, and of the Holy Ghost: Teaching them to observe all things whatsoever I have commanded you…" (See: Matthew 28:18-20 KJV) The first and primary purpose of the Church is to be about the work of the Lord as instructed in the scriptures.  This cannot be overstated, but it has clearly been abandoned.
Death is not the enemy of those who are saved, i.e., born-again.  But death and eternal damnation are the reward of those who do not know know Christ as their Savior.
My friends it is imperative that we be reconciled to God and that can only take place by accepting Jesus Christ as Savior.  This world is doomed and under judgement and has been since man fell in the Garden; and it will be destroyed.  In the time remaining let us be about the true work of the Lord.  But we can only do that if the Holy Spirit abides in us and that can only happen if we are truly in Christ.
READ:
John 16:7-15 KJV
7 Nevertheless I tell you the truth; It is expedient for you that I go away: for if I go not away, the Comforter will not come unto you; but if I depart, I will send him unto you.
8 And when he is come, he will reprove the world of sin, and of righteousness, and of judgment:
9 Of sin, because they believe not on me;
10 Of righteousness, because I go to my Father, and ye see me no more;
11 Of judgment, because the prince of this world is judged.
12 I have yet many things to say unto you, but ye cannot bear them now.
13 Howbeit when he, the Spirit of truth, is come, he will guide you into all truth: for he shall not speak of himself; but whatsoever he shall hear, that shall he speak: and he will shew you things to come.
14 He shall glorify me: for he shall receive of mine, and shall shew it unto you.
15 All things that the Father hath are mine: therefore said I, that he shall take of mine, and shall shew it unto you.
About the Author
Mychal S. Massie is an ordained minister who spent 13 years in full-time Christian Ministry. Today he serves as founder and Chairman of the Racial Policy Center (RPC), a think tank he officially founded in September 2015. RPC advocates for a colorblind society. He was founder and president of the non-profit "In His Name Ministries." He is the former National Chairman of a conservative Capitol Hill think tank; and a former member of the think tank National Center for Public Policy Research. Read entire bio here