There Are Two Kinds of People – Sunday Thought For The Day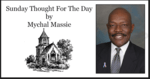 C. S. Lewis is credited with saying: "There are only two kinds of people: those who say to God, Thy will be done, and those to whom God says, All right, then, have it your way."  The question we must answer as individuals, is, which kind are each of us?
I submit that for most of the world, God saying: "All right, then, have it your way" is the reality; the "most of the world" includes most churches, i.e., Christians.
When our deepest desire in life is the Lord's will be done be done in our life, we're saying to God that we "surrender, submit, and commit" our way unto Him.  Herein, however, exists the deceitfulness of our hearts.  Many claim to surrender to God's will for their life, but the fact is, thinking we can surrender and not "submit" our will unto Him and not "commit" our way unto Him, is deceiving ourselves.
I believe this is born out of a disbelief in the supremacy and primacy of God Himself.  We say we believe in God, but for many that does not translate into believing God.  A good example of same being we pray for people to be healed of a disease, but in our inner self many really don't believe the person can be or will be healed – because we don't believe God.  With unvoiced agnostic acceptance we reason that some nebulous structureless unknown exists, but we do not admit that to ourselves; it's easier to just say we believe in God.  Even though embracing with every fiber of our being the reality, presence, and eternal pre-existence of a Holy sinless God is too much for us to fully accept.
An even more simple and commonplace example is those who do not believe the Word of God applies to them.  The Word of God says we are to go to church, but that doesn't apply to them.  The Word of God addresses sin, but that's for others not us.  The Word of God unambiguously speaks to sinful behavior, but we reject His word, and instead make allowances for the behavior, as if God overlooks disobedience based upon what we persuade ourselves to believe.
To base our system of belief in totality on someone else having dominion in our lives and over our lives is unacceptable for us.
You see, to believe God, it requires we first believe the God of Scripture truly exists and existed before all else.  It takes faith in Him whom we cannot see nor touch to believe that.
That's why so many self-identified Christians profess awe at those who share testimonies of God's work in their lives.  They do not view us as the the norm, they view us as anomalies and even worse, many secretly do not believe us at all.  They're simply loathe to admit same to themselves.
We can't trust God if we do not first wholly know God.  And, we cannot know God if we first do not believe every word of His being is true.
It is only if we surrender, submit, and commit to God, that we can truthfully pray: "Thy will be done" Lord.  In the absence of that, we're gambling our eternal future with God for an eternal future in the pit of hell that is a horror beyond our ability to comprehend.
The question I leave you with today, is do you believe there's a Jehovah God who has the power to say: "All right, then, have it your way?"  Keeping in mind that response is a statement that carries a finality of judgement and everlasting hell.
READ:
Hebrews 10:22-25 KJV
22 Let us draw near with a true heart in full assurance of faith, having our hearts sprinkled from an evil conscience, and our bodies washed with pure water.
23 Let us hold fast the profession of our faith without wavering; (for he is faithful that promised;)
24 And let us consider one another to provoke unto love and to good works:
25 Not forsaking the assembling of ourselves together, as the manner of some is; but exhorting one another: and so much the more, as ye see the day approaching.
Hebrews 11:1;6 KJV
1 Now faith is the substance of things hoped for, the evidence of things not seen.
6 But without faith it is impossible to please him: for he that cometh to God must believe that he is, and that he is a rewarder of them that diligently seek him.
About the Author
Mychal S. Massie is an ordained minister who spent 13 years in full-time Christian Ministry. Today he serves as founder and Chairman of the Racial Policy Center (RPC), a think tank he officially founded in September 2015. RPC advocates for a colorblind society. He was founder and president of the non-profit "In His Name Ministries." He is the former National Chairman of a conservative Capitol Hill think tank; and a former member of the think tank National Center for Public Policy Research. Read entire bio here