There's A Greater Fear Than COVID19 – Sunday Thought For The Day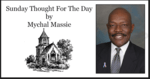 You cannot turn on the television or radio without being virtually overwhelmed by wave after wave of instruction and programming about COVID19. I'm tired of propaganda merchants pretending to assure us all is well at the very same time they are giving hourly death and infection reports. As born-again Christians we should be spending more time with Jesus Christ than we spend time permitting our minds to be filled with fear and godless instruction.
If COVID19 is as deadly as godless fear-mongers want us to believe, shouldn't those who are born-again Christians be spending our time telling people to repent and turn to Christ for salvation?
People are going about terrified of a flu virus that 98-99 percent of those who contract it recover from. They've been convinced that by staying inside, wearing masks, and not standing next to one another is somehow going to protect them. The tragic failure is that not enough people are asking the 98-99 percent of the people who will recover just fine, if they get this flu virus at all, where they will spend eternity whether they get it or not?
What sense does it make for people to go through these histrionics in the belief that they will be safe from a germ that is invisible to the eye, while the majority of these same people do not believe God is God, because they don't see Him? Many have fully bought into much of what has been proven to be false claims based on errant models and misinformation, but they relegate Christ to being not much more than a pronoun. They disobey and dismiss the immutable Word of God based upon what they think, feel or desire at a particular given moment, but they report their neighbor for daring not to obey edicts of reprobate municipal figures.
This virus is the result of the disobedience, i.e., the sin of man in the Garden of Eden. God's word explains: "Wherefore, as by one man sin entered into the world, and death by sin; and so death passed upon all men, for that all have sinned:" (Romans 5:12 KJV)
People are more afraid of dying from a flu germ that practically everyone who contracts same will recover from, yet they have no such fear about dying without having Jesus Christ as their personal Savior and spending eternity in hell. And we who are born-again Christians, rather than telling them that is no vaccine for those who die without Christ, many of us are right there quaking, shivering, and talking more about COVID19 than we are the message of Salvation.
There has not been a more opportune time to tell people about their need for Jesus Christ, since the hysteria that blanketed the world at the outset of AIDS. This is the time for born-again Christians to stand up and proclaim Christ.
Now is the time to ask what is more of a concern; catching a flu virus and recovering or dying without Christ as Savior and spending eternity in hell? Christians have the only true remedy for fear and it's Jesus Christ. Everything else is nothing more than a placebo to distract persons away from their need for Jesus Christ.
READ:
Acts 4:12 Neither is there salvation in any other: for there is none other name under heaven given among men, whereby we must be saved. (KJV)
Romans 10:9-17 (KJV)
9 That if thou shalt confess with thy mouth the Lord Jesus, and shalt believe in thine heart that God hath raised him from the dead, thou shalt be saved.
10 For with the heart man believeth unto righteousness; and with the mouth confession is made unto salvation.
11 For the scripture saith, Whosoever believeth on him shall not be ashamed.
12 For there is no difference between the Jew and the Greek: for the same Lord over all is rich unto all that call upon him.
13 For whosoever shall call upon the name of the Lord shall be saved.
14 How then shall they call on him in whom they have not believed? and how shall they believe in him of whom they have not heard? and how shall they hear without a preacher?
15 And how shall they preach, except they be sent? as it is written, How beautiful are the feet of them that preach the gospel of peace, and bring glad tidings of good things!
16 But they have not all obeyed the gospel. For Esaias saith, Lord, who hath believed our report?
17 So then faith cometh by hearing, and hearing by the word of God.
About the Author
Mychal S. Massie is an ordained minister who spent 13 years in full-time Christian Ministry. Today he serves as founder and Chairman of the Racial Policy Center (RPC), a think tank he officially founded in September 2015. RPC advocates for a colorblind society. He was founder and president of the non-profit "In His Name Ministries." He is the former National Chairman of a conservative Capitol Hill think tank; and a former member of the think tank National Center for Public Policy Research. Read entire bio here