They Are of The World – Sunday Thought For The Day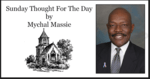 False teachers and those who listen after them, speak and embrace lies for a plethora of reasons, not least of which is as the Apostle John wrote in his first epistle: "They are of the world; therefore speak they of the world, and the world heareth them."  I might add that inherent in John's verse is the idea that they think and believe as the world does. (1 John 4:5 KJV)
They are of the world – this is one of the marks by which those who have the spirit of antichrist might be known. They belong not to the church of God, but to the world. They have its spirit; they act on its principles; they live for it. And, who is the prince of this world – it is Satan.  Thus, we expect those who embrace the world to emulate the ruler of same.
We expect them to be easily misled, opposed to truth and rabidly defiant.  We expect them to behave antithetical to the Word of God.  We can even expect them to read the Word of God.  But, they don't read it to learn how to be more like Christ or to be used of God; they read it for head knowledge and/or to be puffed up.  Satan knows the Word of God very well, so why would we expect his emissaries to not know it?  We just don't expect them to obey God's Word.
Not all defiance is always openly displayed; but, it is always sooner or later exposed.  A person cannot hide the truth of their character from the light of the Truth of God.
A honest, truthful, child of God – one who wants more than anything else to be obedient to the Word of God, will pray asking God to shape them in His image.  They will pray asking God to show them the areas in their lives that they're falling short.  And, when God shows us, we will ask Him to deliver us from whatever the shortcoming may be.
We will ask a trusted person in Christ if they see an area in our lives that may need attending to or that might cause us to stumble?  We will ask someone who is deeply rooted and grounded in Christ, not someone who is weak in the faith or not living their life as they should.  And certainly not someone who has been waiting for the opportunity to ridicule us.
I don't believe the Holy Spirit would let me wander off track, but, I'm aware that if it happened once, it can happen again if I let my guard down.  I want the Pastor of our church to rebuke me if ever the situation calls for it.  I'm not concerned with him hurting my feelings.  The Apostle Peter nor Barnabas were offended when the Apostle Paul rebuked them both in front of all the Judaizers and the church for their hypocrisy.  They may have been embarrassed; but, better to be embarrassed than out of the will of God.
In this season of time before the Lord's return for His own, i.e., the Rapture, I want to be used by God to the fullest extent I can.  I want to be a servant that He can trust me to carry out His work to the best of my ability.  That means, I must be usable.  For me that means in part speaking the truth regardless of who doesn't like it.  Not from the politically correct fallacious view of the world.  But, in obedience to the Word of God.  I cannot be usable if I am defiant, unbelieving and clinging to the ruler of this world more than the Creator of heaven and earth.
READ:
1 John 4:1-6 KJV
1 Beloved, believe not every spirit, but try the spirits whether they are of God: because many false prophets are gone out into the world.
2 Hereby know ye the Spirit of God: Every spirit that confesseth that Jesus Christ is come in the flesh is of God:
3 And every spirit that confesseth not that Jesus Christ is come in the flesh is not of God: and this is that spirit of antichrist, whereof ye have heard that it should come; and even now already is it in the world.
4 Ye are of God, little children, and have overcome them: because greater is he that is in you, than he that is in the world.
5 They are of the world: therefore speak they of the world, and the world heareth them.
6 We are of God: he that knoweth God heareth us; he that is not of God heareth not us. Hereby know we the spirit of truth, and the spirit of error.
About the Author
Mychal S. Massie is an ordained minister who spent 13 years in full-time Christian Ministry. Today he serves as founder and Chairman of the Racial Policy Center (RPC), a think tank he officially founded in September 2015. RPC advocates for a colorblind society. He was founder and president of the non-profit "In His Name Ministries." He is the former National Chairman of a conservative Capitol Hill think tank; and a former member of the think tank National Center for Public Policy Research. Read entire bio here