Thinking About John 3:16 KJV – Sunday Thought For The Day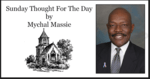 One of the most widely recognized verses of scripture and certainly the most often seen on placards in the stands at sporting events globally is John 3:16: For God so loved the world, that he gave his only begotten Son, that whosoever believeth in him should not perish, but have everlasting life. (KJV)  But, how often do we think about the specifics of what this verse states?
The very first thing that captures my attention is God's divine love for the whole of humanity: "For God so loved the world," despite humanity being sinful, wicked and wholly unworthy of anything but judgement and condemnation.
This love was expressed by the giving of "His only begotten son," which appears in John 3:16 and refers to Jesus being the unique Son of God, the only one of His kind and/or class (John 20:31  KJV) juxtaposed to God's other sons and daughters by adoption through Christ Jesus to Himself  (Ephesians 1:5 KJV)
I am awed when I think that Christ was given so that every person who believed upon Him would have eternal life juxtaposed to eternal damnation that is our guaranteed and deserved end should we refuse to believe He is the Son of God and the only acceptable payment God will accept to forgive our sin debt.
But, I cannot consider this verse without first thanking God for His divine love for the whole of humanity.  Ours was/is a condition of supreme need that could not be met apart from God Himself and His grace.  I'm reminded daily that His divine love exceeds our supreme need in that our need is the commanding, exhaustless, immeasurable kind – as is His grace.
His love is exhaustless immeasurable, equal to any emergency, and able to secure for the worst and most degraded, for the outcast, the serpent-bitten and the dying, a means of unlimited deliverance and uplifting.  His Divine love is the sublime source of the whole proceeding, and it has been lavished on "the world."  "This world" cannot be the limited "world" of the Augustinian, Calvinian interpreters and their world of the elect; it's the "whole world," as John states in 1 John 2:2 KJV).  As the Apostle Paul states "God will have all men to be saved" (1 Timothy 2:4 KJV)
Thus said, there's one more thought that comes to my mind when I think of John 3:16 (KJV) and that is hatred.  How can I hate; how can I be unforgiving, when so great a display was given unto the world out of love?
READ:
1 John 2:1-11 KJV
1 My little children, these things write I unto you, that ye sin not. And if any man sin, we have an advocate with the Father, Jesus Christ the righteous:
2 And he is the propitiation for our sins: and not for ours only, but also for the sins of the whole world.
3 And hereby we do know that we know him, if we keep his commandments.
4 He that saith, I know him, and keepeth not his commandments, is a liar, and the truth is not in him.
5 But whoso keepeth his word, in him verily is the love of God perfected: hereby know we that we are in him.
6 He that saith he abideth in him ought himself also so to walk, even as he walked.
7 Brethren, I write no new commandment unto you, but an old commandment which ye had from the beginning. The old commandment is the word which ye have heard from the beginning.
8 Again, a new commandment I write unto you, which thing is true in him and in you: because the darkness is past, and the true light now shineth.
9 He that saith he is in the light, and hateth his brother, is in darkness even until now.
10 He that loveth his brother abideth in the light, and there is none occasion of stumbling in him.
11 But he that hateth his brother is in darkness, and walketh in darkness, and knoweth not whither he goeth, because that darkness hath blinded his eyes.
About the Author
Mychal S. Massie is an ordained minister who spent 13 years in full-time Christian Ministry. Today he serves as founder and Chairman of the Racial Policy Center (RPC), a think tank he officially founded in September 2015. RPC advocates for a colorblind society. He was founder and president of the non-profit "In His Name Ministries." He is the former National Chairman of a conservative Capitol Hill think tank; and a former member of the think tank National Center for Public Policy Research. Read entire bio here