This Is The Day Of Decision – Sunday Thought For The Day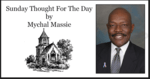 The following Sunday Thought For The Day is taken from my book of devotions titled: I Feel The Presence of The Lord. (Chapter 61; page 188)
It's easy to claim to be a Christian, it's another thing to stand committed to being obedient to God's word.
If we are true born-again Christians, committed to being obedient to the Word of God, then we will love truth and righteousness. It's also true that we will hate that which God hates, i.e., sin.
We cannot claim to love Christ and rationalize there is such a thing as acceptable sin or truth outside of God's word. Sin is never acceptable, especially as a lifestyle in our lives. Christ died for our sins, and He died because God so loved the world that He sent His only begotten Son, that whosever believed in Him would not perish but would have everlasting life. (See: John 3:16 KJV) But we must not be deceived; God doesn't play games, nor does He rationalize sin. The wages of sin are death. (See: Romans 6:23 KJV)
As was discussed during our Thursday midweek Bible study at church, Christians must realize that we stand at a point in time that demands a decision. We will either follow Christ and His word, or we will turn away and make peace with sin.
We cannot invite sin into our homes and think that there won't be ramifications that hurt our families and destroy our witness.
Sinful behavior is being promoted as normal. We are told that in order to show we love one another, we must approve of sinful behavior and lifestyles. We cannot turn on the radio or television nor open a magazine without having reprobate sinful behavior being thrown in our faces.
We cannot close our eyes to the proliferation of sin, nor can we approve of it out of some false idea that we're showing the love of Christ by making peace with sin. God isn't a man who can be persuaded to justify sin. God loves the sinner but He hates the sin.
Today is the day of decision. As sinful behavior and the abandonment of God increases, so too must we realize the day of Christ's return draws nearer.
We're not deemed righteous before God because we declare ourselves same. We're deemed righteous before God when we have been born again, washed in the blood of Christ and make being obedient to His word the goal of our life.
READ:
Romans 13:11-14 (KJV)
11 And that, knowing the time, that now it is high time to awake out of sleep: for now is our salvation nearer than when we believed.
12 The night is far spent, the day is at hand: let us therefore cast off the works of darkness, and let us put on the armour of light.
13 Let us walk honestly, as in the day; not in rioting and drunkenness, not in chambering and wantonness, not in strife and envying.
14 But put ye on the Lord Jesus Christ, and make not provision for the flesh, to fulfil the lusts thereof.
About the Author
Mychal S. Massie is an ordained minister who spent 13 years in full-time Christian Ministry. Today he serves as founder and Chairman of the Racial Policy Center (RPC), a think tank he officially founded in September 2015. RPC advocates for a colorblind society. He was founder and president of the non-profit "In His Name Ministries." He is the former National Chairman of a conservative Capitol Hill think tank; and a former member of the think tank National Center for Public Policy Research. Read entire bio here