This Isn't The First Time But It May Be The Last – Sunday Thought For The Day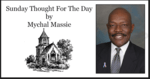 We live in a day of what appears to be unprecedented evil and wickedness.  I hear Christians lamenting and agonizing about the brazen, shameless wicked behavior and practice of evil.  I've observed that for some it's a form of piety to express such despair.  Albeit, far too often it's a sign of not reading, studying and believing God's word.
The words of David in Psalm 37 (KJV) are not words of defeat.  They are not words of despair.  They're words of triumph; words of the power and glory of God.  They are assurance and guarantee.  God cannot lie.
We do well to remember that this isn't the first time wickedness has seemed to rule the day.  Christians who surrender to despair because of the evil of today are forgetting what it was like in the days of Abram and Lot.  People are forgetting about Nineveh and Rome.
Jesus told us in Matthew 24:37 (KJV): "But as the days of Noah were, so shall also the coming of the Son of man be."  They ignore the primary causal reasons that God's wrath flooded the world, destroying all life except eight members of one family, and those animals, fowls and reptiles with them in the security craft they floated in.  It certainly wasn't because of indiscriminate instances of disobedience.
Today we are promised far better than the safety of returning to dry land.  We're promised a homecoming to the palace of our God for evermore.
I encourage all to stop complaining about the proliferation of evil.  Nothing that is happening today is happening by chance, accident or the power of men.  Everything, no matter how wicked it seems had to be permitted by God.  He's in control; Satan cannot act without the His permission.  This is made expressly clear in the first chapter of the Book of Job.
Those who are practicing wickedness would do well to remember that God will not be mocked and unless they turn to Christ, confess their sins and repent their evil and wickedness – this world is the absolute best it will be for them now and in eternity.  Thus, "Woe unto the world because of offences! for it must needs be that offences come; but woe to that man by whom the offence cometh!" (Matthew 18:7 KJV)
Let us be about the work of the Lord in reaching others for Christ, for truly the fields are ripe unto harvest.  Let us therefore pray that the Lord would send us as workers in His harvest.
READ:
Job 20:4- KJV
4 Knowest thou not this of old, since man was placed upon earth,
5 That the triumphing of the wicked is short, and the joy of the hypocrite but for a moment?
6 Though his excellency mount up to the heavens, and his head reach unto the clouds;
7 Yet he shall perish for ever like his own dung: they which have seen him shall say, Where is he?
8 He shall fly away as a dream, and shall not be found: yea, he shall be chased away as a vision of the night.
9 The eye also which saw him shall see him no more; neither shall his place any more behold him.
About the Author
Mychal S. Massie is an ordained minister who spent 13 years in full-time Christian Ministry. Today he serves as founder and Chairman of the Racial Policy Center (RPC), a think tank he officially founded in September 2015. RPC advocates for a colorblind society. He was founder and president of the non-profit "In His Name Ministries." He is the former National Chairman of a conservative Capitol Hill think tank; and a former member of the think tank National Center for Public Policy Research. Read entire bio here