This Isn't The First Time Satan Has Tried — Sunday Thought For The Day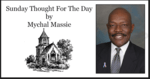 The sin consumed godless are quite full of themselves these days. They actually believe that they are effectively denying public acknowledgement of Christ.
Public school students are told they cannot read the bible in any area where someone can see them. Apparently a student or students in these schools can be deeply traumatized and emotionally haunted by the image of a person sitting quietly, minding their own business, reading their bible. Who would have thought the day would come when that would be more psychologically disturbing, than it would be to have abnormal sexual beliefs and practices forced upon these same children?
There are documented instances of persons refusing to sit beside a person reading their bible. Public schools proudly proclaim their "holiday pageants" are free of Christmas carols and every form of reference to the birth of Christ.
Foolish unsaved persons make unimaginably ignorant and blasphemous statements such as, God did not have the consent of Mary to impregnate her. God is accused of being a sexual predator frightening a young pubescent girl into having an unwanted sexual relationship.
The list of acts intended to remove Christ from Christmas has grown in staggering proportions.
The single most important thing overlooked by Christians who wring their hands and chant jeremiads based upon the Satanic attempt to remove Christ, is that this has been tried before.
It was tried in heaven — it resulted in Satan and his minions being cast out. Satan tried and failed to destroy the lineage of David to prevent the birth of Christ as prophesied. So-called learned and revered individuals have tried to deny the existence of Christ but they too have failed.
It is important for Christians to remember that God's word is immutable and His promises cannot be broken. There is nothing the minions of Satan can do to remove Christ from that which we celebrate as His birth nor to remove Him from public square — it's been tried before with the same outcome. Failure!!
As Christians, it is important to remember that Satan failed to prevent the birth of Christ when he had Herod murder all male children two years of age and younger. Satan's mission is to spread lies and entice people into sinful lives. But he is a failure.
Christians should not despair; we should rejoice because the greater the attempt to remove Christ the closer we are to His second coming. Those who are not saved are the ones who should despair, because the day awaits them that they will stand before God and there is nothing written in scripture that suggests that will be a pleasant experience for the unsaved.
READ: Psalm 53 (KJV)
53 The fool hath said in his heart, There is no God. Corrupt are they, and have done abominable iniquity: there is none that doeth good.
2 God looked down from heaven upon the children of men, to see if there were any that did understand, that did seek God.
3 Every one of them is gone back: they are altogether become filthy; there is none that doeth good, no, not one.
4 Have the workers of iniquity no knowledge? who eat up my people as they eat bread: they have not called upon God.
5 There were they in great fear, where no fear was: for God hath scattered the bones of him that encampeth against thee: thou hast put them to shame, because God hath despised them.
6 Oh that the salvation of Israel were come out of Zion! When God bringeth back the captivity of his people, Jacob shall rejoice, and Israel shall be glad.
About the Author
Mychal S. Massie is an ordained minister who spent 13 years in full-time Christian Ministry. Today he serves as founder and Chairman of the Racial Policy Center (RPC), a think tank he officially founded in September 2015. RPC advocates for a colorblind society. He was founder and president of the non-profit "In His Name Ministries." He is the former National Chairman of a conservative Capitol Hill think tank; and a former member of the think tank National Center for Public Policy Research. Read entire bio here