True Christian Service Is Not Social Justice – Sunday Thought For The Day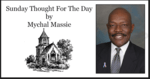 Social justice has become identified as the principle function and interest of the church, i.e., of religion; the problem is that social justice has nothing to do with Christendom and everything to do with the lies and deception of Satan.
C. S. Lewis writes: "The thing to do is to get a man at first to value social justice as a thing which the Enemy [i.e, God] demands, and then work him on to the stage at which he values Christianity because it may produce social justice.  For the Enemy will not be used as a convenience.  Men or nations who think they can revive the Faith in order to make a good society might as well think they can use the stairs of Heaven as a short cut to the nearest chemist's shop.  Fortunately it is quite easy to coax humans round this little corner." (The Screwtape Letters; Screwtape to Wormwood Pg. 126-127)
The idea that the function of the church is to man the picket lines fighting social causes, equality and affirmation for sexual depravity, and behaviors that have nothing to do with advancing the Word and work of Christ is a lie put forth by those who are purposefully ignorant of what God's Word instructs.
Social justice is a wigwam for disobedience without penalty, which is antithetical to God's immutable Word.  Social justice is the conforming of the Word and instruction of the Bible to approve of that which God condemns.  From Genesis to the Revelation we are instructed to be about reaching people for Christ, feeding the sheep of Christ, and furthering His kingdom on earth in the time remaining before the Church is raptured.
But, the enemy of our souls has blinded people to that truth.  Social justice is not about reaching people for Christ, it is about making people feel good in their sin and making perfunctory churchgoers sing praises to themselves because they have blindly swallowed the elixir of feel-goodism.  Social justice has no expectation for the unsaved to repent and turn to Christ for salvation.
When we reach people for Christ and teach them to be obedient to the Word of God and faithful to Him, we are the administers of Spiritual health to the disobedient, the unsaved and Spiritually dying.  We are using our spiritual gifts and talents in the way that is pleasing to God and truly profitable to man.  Our obligation is to be about leading people to Christ and teaching the people of all nations to observe all the things of Christ.  The truly Christ-centered church is first faithful to the Word of God.  As that church fulfills the ministry of Christ in obedience to the Word of God, we replicate ourselves as faithful Christians.
READ:
Acts 2:41-47 KJV
41 Then they that gladly received his word were baptized: and the same day there were added unto them about three thousand souls.
42 And they continued stedfastly in the apostles' doctrine and fellowship, and in breaking of bread, and in prayers.
43 And fear came upon every soul: and many wonders and signs were done by the apostles.
44 And all that believed were together, and had all things common;
45 And sold their possessions and goods, and parted them to all men, as every man had need.
46 And they, continuing daily with one accord in the temple, and breaking bread from house to house, did eat their meat with gladness and singleness of heart,
47 Praising God, and having favour with all the people. And the Lord added to the church daily such as should be saved.
About the Author
Mychal S. Massie is an ordained minister who spent 13 years in full-time Christian Ministry. Today he serves as founder and Chairman of the Racial Policy Center (RPC), a think tank he officially founded in September 2015. RPC advocates for a colorblind society. He was founder and president of the non-profit "In His Name Ministries." He is the former National Chairman of a conservative Capitol Hill think tank; and a former member of the think tank National Center for Public Policy Research. Read entire bio here