Understanding How The Lion Hunts – Sunday Thought For The Day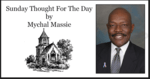 The idea that Satan walketh about as a roaring lion seeking whom he may devour has nothing to do with him going about noisily growling and roaring, rather it refers to him going about with great stealth.
The last thing a ravenous lion wants to do is make its presence known to a herd of antelopes that are lazily grazing not giving their full attention to the threat advancing upon them.  Thus, the more expressive way to say it is, "seeking which he may devour," juxtaposed to "seeking whom he may devour."  Satan and his emissaries are watching Christians to see which ones are wandering inattentively so as to steer them astray, i.e., cause them to stumble or worse steer them to their destruction.
The Apostle Peter warns us to "be sober," which as Benson explains in his Commentary: is a warning to "keep our appetites and passions under proper restraint and biblical rule, stay alert and stay awake, as the word sober also signifies…be vigilant — watchful against the subtle and malicious designs of our spiritual enemies."
Men as the head of your family you are to be watchmen.  Good watchmen are aware of everything that approaches their walls, i.e., boundaries.  The safety and health of that which we are entrusted to protect is not a job for the biblically illiterate, slackards or the defiantly hard hearted.  Watchmen are charged to be sober, vigilant and protective.
Watchmen are not called to be patient with the enemies of our souls whose mission it is to destroy us.  We are called to protect ourselves and our flock, and too teach our families to recognize evil and avoid it.
Misunderstanding this verse is to misunderstand our enemy and to place ourselves in peril.  If we wait for Satan and his minions to alert us of their presence, by the time we are aware of their threat it will be too late.
Safety comes from recognizing and/or seeing the threat from afar and avoiding it altogether.  That is especially true when it comes to making sin welcome in our hearts.
READ:
1 Peter 5:8 KJV
8 Be sober, be vigilant; because your adversary the devil, as a roaring lion, walketh about, seeking whom he may devour:
About the Author
Mychal S. Massie is an ordained minister who spent 13 years in full-time Christian Ministry. Today he serves as founder and Chairman of the Racial Policy Center (RPC), a think tank he officially founded in September 2015. RPC advocates for a colorblind society. He was founder and president of the non-profit "In His Name Ministries." He is the former National Chairman of a conservative Capitol Hill think tank; and a former member of the think tank National Center for Public Policy Research. Read entire bio here