Walking Above The Storms – Sunday Thought For The Day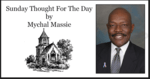 The following is an excerpt from my book, "Alone With Jesus: How I Start Each Day."
There is an interesting correlation between Jesus walking on the water in Matthew 14:25-26, and the Ark built by Noah floating above "the flood." The most obvious was that they were both on top of the water and not in the water.
The scriptures tell us "Jesus was walking on the sea." The Ark was essentially a giant shoebox that was designed not to float away from "the flood" but to float on top of "the flood." In brief, as the water rose the Ark rose on top of same and as the water receded the Ark lowered until it came to rest upon Mount Ararat. (See: Genesis 8:4)
Here is my point. God has not made man to suffer beneath the storms of life, but through Christ Jesus, we are able to ride above the storms of life.
It doesn't mean that we will not experience the storms of life, but it does mean that we are able to live above them. Difficult times are a guarantee in this life but the abiding presence of our Lord is promise from Him who cannot lie and who has promised to never leave us nor forsake us.
It is for this reason that we should not worry over hard times but rather we should give thanks unto the Lord during hard times because we know we are not alone. The world wonders how Christians can endure the hardships and severe health issues, etc. and do so in a way that is different from those who do not know Christ.
The reason is because we have an abiding Savior who lifts us above the storms of life. Which means we may be tossed around but we will never drown for He is with us.
READ:
Deuteronomy 31:6-8 (KJV)
6 ​Be strong and of a good courage, fear not, nor be afraid of them: for the Lord thy God, he it is that doth go with thee; he will not fail thee, nor forsake thee.
7 ​And Moses called unto Joshua, and said unto him in the sight of all Israel, Be strong and of a good courage: for thou must go with this people unto the land which the Lord hath sworn unto their fathers to give them; and thou shalt cause them to inherit it.
8 ​And the Lord, he it is that doth go before thee; he will be with thee, he will not fail thee, neither forsake thee: fear not, neither be dismayed.
About the Author
Mychal S. Massie is an ordained minister who spent 13 years in full-time Christian Ministry. Today he serves as founder and Chairman of the Racial Policy Center (RPC), a think tank he officially founded in September 2015. RPC advocates for a colorblind society. He was founder and president of the non-profit "In His Name Ministries." He is the former National Chairman of a conservative Capitol Hill think tank; and a former member of the think tank National Center for Public Policy Research. Read entire bio here