We Don't Do It For Earthly Praise – Sunday Thought For The Day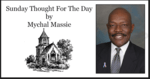 Luke 5:11 KJV, tells us: "…they forsook all, and followed him."  I submit that therein lies the measure of the men Christ chose as disciples who became Apostles.  They left family and friends; they separated from the world and followed after Christ.
Sadly many who claim to serve today ignore Christ's words that the servant is not greater than his lord nor greater than the one who  sent him.  If they cursed Christ and hated Him, they will also curse us and hate us if we're obedient servants.  That's because darkness cannot coexist with light and lies cannot coexist with truth.  We're called to be truth and light and we're to be intractable about both.
If we are desirous of praise and recognition from the world we're not suited for service to God.  That's no less the case if we serve for the applause of Christendom.  Today, there are many who claim to be Christians and yet resist the truth of God's Word.  They hide behind bromides of "not judging" and approve sin under the guise of showing love.
I know of a man who freely admitted entering ministry because he got housing, transportation, health insurance, retirement, schooling for his children and more.  He was not ashamed in admitting it.  But Jesus said, He had nowhere to lay his head.  Jesus neither had nor owned earthly items, but because He was faithful to the purpose for which He was sent, we have salvation and victory over death.
Being in service to the Lord was/is not for the faint of heart nor for those who are attracted to the world.   Those called to ministry must come out and be separate from world.  They must put worldly wants and desires away from them; they must want and desire to be faithful and obedient to God above all else.  They must be able to able to say in truth: "I am crucified with Christ…"  if they're to be used of God.
I love more than anything in the world being a minister, but I would never have chosen it for myself.  God chose me in spite of myself, with all of my spots and blemishes.  That said, there is nothing I would rather be.  Being a minister in the service of Christ is the greatest calling and except for the blood and calling of Christ, we are wholly unworthy to serve as same.
READ:
John 1:35-51 KJV
35 Again the next day after John stood, and two of his disciples;
36 And looking upon Jesus as he walked, he saith, Behold the Lamb of God!
37 And the two disciples heard him speak, and they followed Jesus.
38 Then Jesus turned, and saw them following, and saith unto them, What seek ye? They said unto him, Rabbi, (which is to say, being interpreted, Master,) where dwellest thou?
39 He saith unto them, Come and see. They came and saw where he dwelt, and abode with him that day: for it was about the tenth hour.
40 One of the two which heard John speak, and followed him, was Andrew, Simon Peter's brother.
41 He first findeth his own brother Simon, and saith unto him, We have found the Messias, which is, being interpreted, the Christ.
42 And he brought him to Jesus. And when Jesus beheld him, he said, Thou art Simon the son of Jona: thou shalt be called Cephas, which is by interpretation, A stone.
43 The day following Jesus would go forth into Galilee, and findeth Philip, and saith unto him, Follow me.
44 Now Philip was of Bethsaida, the city of Andrew and Peter.
45 Philip findeth Nathanael, and saith unto him, We have found him, of whom Moses in the law, and the prophets, did write, Jesus of Nazareth, the son of Joseph.
46 And Nathanael said unto him, Can there any good thing come out of Nazareth? Philip saith unto him, Come and see.
47 Jesus saw Nathanael coming to him, and saith of him, Behold an Israelite indeed, in whom is no guile!
48 Nathanael saith unto him, Whence knowest thou me? Jesus answered and said unto him, Before that Philip called thee, when thou wast under the fig tree, I saw thee.
49 Nathanael answered and saith unto him, Rabbi, thou art the Son of God; thou art the King of Israel.
50 Jesus answered and said unto him, Because I said unto thee, I saw thee under the fig tree, believest thou? thou shalt see greater things than these.
51 And he saith unto him, Verily, verily, I say unto you, Hereafter ye shall see heaven open, and the angels of God ascending and descending upon the Son of man.
About the Author
Mychal S. Massie is an ordained minister who spent 13 years in full-time Christian Ministry. Today he serves as founder and Chairman of the Racial Policy Center (RPC), a think tank he officially founded in September 2015. RPC advocates for a colorblind society. He was founder and president of the non-profit "In His Name Ministries." He is the former National Chairman of a conservative Capitol Hill think tank; and a former member of the think tank National Center for Public Policy Research. Read entire bio here