What Are The Most Important Words In Scripture? – Sunday Thought For The Day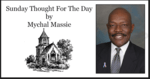 The very first ten words of the Bible are the most important words in Scripture in terms of faith; but how many professing born-again Christians realize this indisputable fact? That said, I can tell you who does realize this fact; it's the enemy of our souls.
The first ten words of the Bible are: "In the beginning God created the heaven and the earth." (Genesis 1:1 KJV) Why are they the absolute most important words in Scripture? It's because if you do not believe these opening ten words as written, how do you believe without question and without doubt every word of every verse that follows to the very last Word of Scripture?
The enemy is nothing if not the most insidiously clever and evil created being ever, in all of time. Satan knows all too well, that if he can have us doubt the first ten words of the Bible – it takes little effort to lead us into doubting and in many instances outright disbelieving other parts of Scripture. Herein is the cleverness of the devil.
The writers of Scripture wrote the Word of God under the auspices, i.e., direct guidance and approval of the Holy Spirit. God breathed. (See: 2 Timothy 3:16 KJV)
I personally am a Biblical literalist. That means that I believe every word in Scripture literally. Thus, when it Scripture starts by saying: "In the beginning God created the heaven and the earth"… I accept that God existed in the beginning before there was time and that He exists outside of time. I don't need to fully understand how that can be, I believe unequivocally that it is absolute truth regardless of my ability to fully comprehend it.
I believe that the Holy Spirit cannot lie nor does He resort to trickery. I believe the Holy Spirit means exactly what He inspired to be written in the words of men. It's easy for me to believe that God created in literal 24 hour days, because I believe if He had not meant literal 24 hour days, the Spirit would have guided Moses to write otherwise.
How can one believe Eve conversed with a serpent, if we doubt the validity of Genesis 1:1 (KJV)? If we question or believe other than Moses meant exactly what he wrote in Genesis 1:1 (KJV), how can we believe that he conversed with The Lord in a literal burning bush in the middle of the desert? (See: Exodus 3:1-6 KJV)
Our faith is based upon our belief that Genesis 1:1 (KJV) means exactly what it says. Satan knows if he can have us doubt that God existed outside of time and that God created the heaven and the earth, pride will become do the rest. Under the guise of scholardom, prideful man will do the rest. We will get mired down in what we think juxtaposed to believing what is said.
READ: Hebrews 11:1-3;6 (KJV)
1 Now faith is the substance of things hoped for, the evidence of things not seen.
2 For by it the elders obtained a good report.
3 Through faith we understand that the worlds were framed by the word of God, so that things which are seen were not made of things which do appear.
6 But without faith it is impossible to please him: for he that cometh to God must believe that he is, and that he is a rewarder of them that diligently seek him.
About the Author
Mychal S. Massie is an ordained minister who spent 13 years in full-time Christian Ministry. Today he serves as founder and Chairman of the Racial Policy Center (RPC), a think tank he officially founded in September 2015. RPC advocates for a colorblind society. He was founder and president of the non-profit "In His Name Ministries." He is the former National Chairman of a conservative Capitol Hill think tank; and a former member of the think tank National Center for Public Policy Research. Read entire bio here