What Do You Share With Others? – Sunday Thought For The Day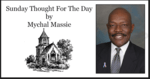 In Acts 15:12 we read: "Then all the multitude kept silence, and gave audience to Barnabas and Paul, declaring what miracles and wonders God had wrought among the Gentiles by them." (KJV)
The question I present is, was the aforementioned: "a boastful look at what we have done, aren't we special party"; or was it Barnabas and Paul sharing for the purpose of making disciples, encouraging the people to be bold in Christ, and sharing that as they were obedient in life and in proclaiming the message of Jesus Christ, so too was God obliged to wrought mighty "miracles and wonders" through them?
Here is my point. We must ask ourselves: Who is being encouraged by what God is doing through us? What accounts of what God has done through us do we have to share with others? Who have we encouraged by the sharing of what God is doing in our lives?
If a person is truly a born-again Christian, God the Holy Spirit dwells within them. The Holy Spirit is by His very nature active. He is not dormant nor passive. If we are Christians we are commanded to share of the "Glory of God in our lives and salvation through Jesus Christ."
Of the many people we see and come in contact with each and every day, how many do we share with as Barnabas and Paul did? As Christians we are not called to be fearful, timid, and/or passive. We are "ambassadors for Christ" and as such, we in Christ's stead are to tell people to be "reconciled to God."
Are we able to share with people regarding "miracles and wonders" God has wrought in our lives and to others through us? Christendom today needs to remember that God working mightily in us and through us, is intended to be the norm, not the exception.
READ: 2 Corinthians 5:17-21 KJV
17 Therefore if any man be in Christ, he is a new creature: old things are passed away; behold, all things are become new.
18 And all things are of God, who hath reconciled us to himself by Jesus Christ, and hath given to us the ministry of reconciliation;
19 To wit, that God was in Christ, reconciling the world unto himself, not imputing their trespasses unto them; and hath committed unto us the word of reconciliation.
20 Now then we are ambassadors for Christ, as though God did beseech you by us: we pray you in Christ's stead, be ye reconciled to God.
21 For he hath made him to be sin for us, who knew no sin; that we might be made the righteousness of God in him.
About the Author
Mychal S. Massie is an ordained minister who spent 13 years in full-time Christian Ministry. Today he serves as founder and Chairman of the Racial Policy Center (RPC), a think tank he officially founded in September 2015. RPC advocates for a colorblind society. He was founder and president of the non-profit "In His Name Ministries." He is the former National Chairman of a conservative Capitol Hill think tank; and a former member of the think tank National Center for Public Policy Research. Read entire bio here