What Do You Tell Others? – Sunday Thought For The Day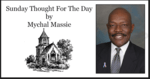 We share what we believe.  If you have a mechanic who has serviced your vehicles over the years and you're pleased with his service, you tell others about him even in casual conversation.  When the time comes for home repairs we more often than not will check with a friend to see if they can recommend someone.  We recommend restaurants to one another.  The list is endless regarding our exchange of helpful information with friends and/or acquaintances.
And few things please us more than when our friends and/or an acquaintances thank us and tell others what a great referral we gave them.
Of course you know what this is leading up to.  I now ask the question; why people do not share Jesus Christ with the same enthusiasm they share about how great the food is at a new restaurant they just visited?  How many people in your sphere of association do you share what God has done for you with the same enthusiasm that they/you rave about a vacation, a sporting event or a politician?
I'll tell you why.  The reason God is not shared with enthusiasm is: a) we/they are ashamed of Him; b) we/they do not have a true personal relationship with Christ.
At our church we laugh, joke, cry, rejoice, and praise our Lord, literally every day.  We praise God for answered prayer(s).  We praise Him for the testimonies of what He has done for us throughout the week. We call one another or text one another to share what God has just done and/or to share something we just read in the bible that stood out to us.
We are honest and we have bonded in trust to the point that we can openly share very personal things.
We can do that because, before anyone else we praise the Lord. We're not without problems, but it's the way we seek resolution to them.  Two marriages have had issues resolved that in many instances would have resulted in bitterness and estrangement.  We've dealt with sickness, severe health issues, hospitalization, and so on.
Our conversations naturally include Christ, not because we think that makes us holy; it is because we are passionate in our belief and relationship with Christ.
If a person claims to be a Christian and they talk more about sports, politics, the flu, taking care of their yard, eating out, or whatever, more than they talk about God and what He is doing in their life, it is because God isn't as important as other things.  If a person claims to be a Christian, but seldom if ever quotes the bible, quoting instead philosophers, authors, etc., it is a sure bet they do not quote the scriptures because they do not spend time in the Bible.
People can disagree with me, but it is a fact that we discuss what is important to us.  It grieves me when I hear claims of a person being a Christian followed immediately with reasons excusing their being obedient to Lord.
We are told to examine ourselves to see if we be in the faith or not. (2 Corinthians 13:5 KJV)  I can say without fear of contradiction; we do what is important to us and we talk about what is important.  If what I've just shared doesn't make you uncomfortable you are either in a right place with Christ or the person isn't being honest with themselves.
READ:
Psalm 26 KJV
1 Judge me, O Lord; for I have walked in mine integrity: I have trusted also in the Lord; therefore I shall not slide.
2 Examine me, O Lord, and prove me; try my reins and my heart.
3 For thy lovingkindness is before mine eyes: and I have walked in thy truth.
4 I have not sat with vain persons, neither will I go in with dissemblers.
5 I have hated the congregation of evil doers; and will not sit with the wicked.
6 I will wash mine hands in innocency: so will I compass thine altar, O Lord:
7 That I may publish with the voice of thanksgiving, and tell of all thy wondrous works.
8 Lord, I have loved the habitation of thy house, and the place where thine honour dwelleth.
9 Gather not my soul with sinners, nor my life with bloody men:
10 In whose hands is mischief, and their right hand is full of bribes.
11 But as for me, I will walk in mine integrity: redeem me, and be merciful unto me.
12 My foot standeth in an even place: in the congregations will I bless the Lord.
About the Author
Mychal S. Massie is an ordained minister who spent 13 years in full-time Christian Ministry. Today he serves as founder and Chairman of the Racial Policy Center (RPC), a think tank he officially founded in September 2015. RPC advocates for a colorblind society. He was founder and president of the non-profit "In His Name Ministries." He is the former National Chairman of a conservative Capitol Hill think tank; and a former member of the think tank National Center for Public Policy Research. Read entire bio here