What If Christians Trusted God Instead Of Politicians? – Sunday Thought For The Day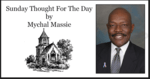 It's not enough to say we believe in God; the devil knows God exists on a personal level and he won't be in heaven.
If we were spending as much time teaching all nations, baptizing them in the name of the Father, Son and Holy Ghost; teaching them to observe all things whatsoever he has commanded us; if we had compassion for the multitudes who are lost and unsaved; and were praying for the Lord of the harvest to send forth laborers into His harvest, we wouldn't have time to waste our energy chasing after that which cannot be changed nor prevented.
Imagine if we used the hundreds and hundreds of millions of dollars spent in this midterm election alone on the work of the Lord.  Imagine the private Christian schools that would truly be committed to teaching Christ in truth that we could establish to rescue children from Satan's cesspools, i.e., public schools.
Imagine the true work of the Lord the church could accomplish if a percentage of the labor, time, and money that was spent on electing unbelievers, the unrighteous and the ungodly to office was used to further the Kingdom and work of God on earth until Christ's return.
Sadly, many Christians disagree with me, but I ask you: Did Christ lament over Jerusalem because the people therein did not elect conservatives or because the people rejected Him?  When Paul was before Felix the governor, Festus the governor and King Agrippa, did he share his testimony in Christ or talk about the political environment?  The answer to these questions is, of course, no!!
I'm not saying do not vote, but I am saying that before God, we who profess Christ as our Savior must be values voters.  The murder of children, adultery, homosexuality, humanism, the worship of environment, fear mongering vis-a`-vis faux pandemics, ad nauseum are things we should and must reject.  Or, do we simply ignore and/or try to explain away Revelation 21:8 KJV?
Elections do not reach people for Christ.  In my lifetime I have yet to hear someone in Congress sharing Jesus Christ and/or calling for America to turn to Christ while there is yet time, from the floor of Congress.  And, spare me the line about Congress not being the place to share Christ.  The fact, that Congress is a den of iniquity that rivals Sodom, Gomorrah, and the festivities of Caligula, proves the need for Christ to be preached within its halls.  Less we forget the mega-million dollars secret Congressional slush fund members set up to buy their way out of penalties for debaucherous behavior.
If the Church and Christendom were being obedient to God's Word and truly seeking to live Christ-centered lives, we would be making a difference that the world over would see and seek to emulate.
READ:
Philippians 3:17-21 KJV
17 Brethren, be followers together of me, and mark them which walk so as ye have us for an ensample.
18 (For many walk, of whom I have told you often, and now tell you even weeping, that they are the enemies of the cross of Christ:
19 Whose end is destruction, whose God is their belly, and whose glory is in their shame, who mind earthly things.)
20 For our conversation is in heaven; from whence also we look for the Saviour, the Lord Jesus Christ:
21 Who shall change our vile body, that it may be fashioned like unto his glorious body, according to the working whereby he is able even to subdue all things unto himself.
About the Author
Mychal S. Massie is an ordained minister who spent 13 years in full-time Christian Ministry. Today he serves as founder and Chairman of the Racial Policy Center (RPC), a think tank he officially founded in September 2015. RPC advocates for a colorblind society. He was founder and president of the non-profit "In His Name Ministries." He is the former National Chairman of a conservative Capitol Hill think tank; and a former member of the think tank National Center for Public Policy Research. Read entire bio here