What If There Isn't Time For Them To 'Grow Out Of It?' – Sunday Thought For The Day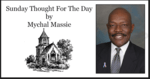 There are things that a true born again Christian should never think, believe or entertain saying, because most of the time what comes out of our mouths is what is in our hearts. Some of these things start out as harmless bromides, which often are made to appear to have biblical practicality to them, but as scripture says in Luke 6:45 (KJV): "…for of the abundance of the heart his mouth speaketh."
One such saying is: "They'll grow out of it." As I said, sometimes the saying is intended to convey simple truths, but sadly the conveyor of such a seeming truism never considers the effect of "waiting to grow out of something." For instance, often we hear that a child will grow out of sucking their thumb. However, we do not hear how much it will cost in braces and dental work for the overbite that is caused by same. A child who wets the bed will "grow out of it" at some point, but what about the personal agony the child often secretly suffers until they do, as they grow older?
Many times we have heard this saying referencing behavior that is reasoned to "not be that bad." This can apply to many areas of what should be viewed from the very beginning as unacceptable behavior(s).
Recently, while referencing the behavior of a young adult who was being disobedient on a number of different levels, an older gentleman told me: "he'll grow out of it." The older gentleman followed that up by saying: "You should have seen what I was like when I was his age." The young man we were talking about is 19-years old.
That is a thoughtless and reckless attitude because it doesn't factor in eternity if the person dies before they confess, repent and turn away from the wrongful behavior. As I listened to the man who was trying to convince me that the behavior of the 19-year old was normal and "they would grow out it," the one question he never broached or remotely considered was what if the young man dies before he does? Nor do I believe the gentleman considered the true threshold of hell he lived before coming to the Lord.
That's the question we must all ask ourselves with respect to our children and other young people. The only guarantee of how long we will live is the very last breath we have taken. If we indulge disobedience and defiance from our children or young people that we know, we're being irresponsible and the mind and heart of Christ is not in us.
We are saying it's okay to be disobedient because the person "will grow out of it." But that mentality contains two questions that go unaddressed: 1) What if because we did not attempt to take corrective measures they reach a point that they'll no longer hear our words; and 2) What if the person(s) dies before they repent?
If we ourselves believe we're being obedient to God, why would we want someone else to not enjoy the abundance of life we should be experiencing, if we are being obedient to God?
READ: Matthew 12:33-37 (KJV)
33 Either make the tree good, and his fruit good; or else make the tree corrupt, and his fruit corrupt: for the tree is known by his fruit.
34 O generation of vipers, how can ye, being evil, speak good things? for out of the abundance of the heart the mouth speaketh.
35 A good man out of the good treasure of the heart bringeth forth good things: and an evil man out of the evil treasure bringeth forth evil things.
36 But I say unto you, That every idle word that men shall speak, they shall give account thereof in the day of judgment.
37 For by thy words thou shalt be justified, and by thy words thou shalt be condemned.
About the Author
Mychal S. Massie is an ordained minister who spent 13 years in full-time Christian Ministry. Today he serves as founder and Chairman of the Racial Policy Center (RPC), a think tank he officially founded in September 2015. RPC advocates for a colorblind society. He was founder and president of the non-profit "In His Name Ministries." He is the former National Chairman of a conservative Capitol Hill think tank; and a former member of the think tank National Center for Public Policy Research. Read entire bio here