What Is The Function of An Ambassador For Christ? – Sunday Thought For The Day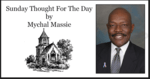 I've been studying and meditating upon the first of the four parts of the verse 2 Corinthians 5:20 (KJV).  It reads: "Now then we are ambassadors for Christ…"  This portion of the verse has had a special sweetness to my spirit since the early days of my relationship with Christ.  However, this portion of the verse also envelops a caution that ministers ignore at their own peril.  Let me explain.
The late American theologian Albert Barnes wrote: "An ambassador is a minister of the highest rank, employed by one prince or state at the court of another, to manage the concerns of his own prince or state, and representing the dignity and power of his sovereign. (Merriam Webster). He is sent to do what the sovereign would himself do were he present. They are sent to make known the will of the sovereign, and to negotiate matters of commerce, of war, or of peace, and in general everything affecting the interests of the sovereign among the people to whom they are sent. … Ministers are ambassadors for Christ, as they are sent to do what he would do were he personally present."  In short: we represent the interests, dignity and power of Christ, who is our Sovereign.
With the meaning of what an Ambassador is and who he represents, the question that demands an answer is: Of those standing in pulpits today, how many can it truthfully be said, are behaving and preaching as Christ would, if He were here today?
Would Christ knowingly misquote and misrepresent God's holy scriptures?  Would Christ teach we must embrace sinful behavior as a show of divine love?  Would Christ stand in the church today and declare that God is a woman?  Would Christ preach that God is a homosexual? Would Christ teach that God endorses sodomy and the abomination of same-sex unions?  Would Christ preach that murdering children in womb and/or children who were just born being killed is a "beautiful and loving thing to do?"  Would Christ preach the fallacious construct of skin color?  Would Christ use His position in the Church to weaponize hatred, greed and envy?  Would Christ preach and teach transgenderism and the mutilation of children?  Would Christ use His position in the Church to reap material gain?  Would He desire mansions, luxurious vehicles, expensive jewelry and an exorbitant salary?  Would Christ demand private jets for travel?  Would Christ focus His message to the church on the necessity to save America or would He focus His attention upon changing hearts and saving souls, i.e., being reconciled to God?  Would Christ dedicate the day of championship sports contests as part of the church service?  Would Christ teach there are many ways to be saved?  Would Christ use the pulpit to preach and teach the bible isn't the inerrant Word of God?  There remains many more questions regarding how Christ would behave if He were the minister in churches today.  If you are in such a church – you're being led astray.
Using the pulpit to preach and teach the things referenced above and the countless more not mentioned, not only imperils the minister, but it imperils all those who attend and support churches pastored by such ministers.  "[We] are to make known, and to explain, and enforce the terms on which God is willing to be reconciled to people.  [We] are not to negotiate on any new terms, nor to change those which God has proposed, nor to follow [our] own plans or devices, but [we] are simply to urge, explain, state, and enforce the terms on which God is willing to be reconciled."
If you're a member of a church and/or denomination where the minister or heads of ministry endorse godlessness, you've been coerced and deceived to turn away from reconciliation to God.  And worst of all, if you are reading this or the same from another minister and/or true child of God the excuse of not knowing is removed.  The reason one stays in wayward church is because, said persons have elected to knowingly embrace lies juxtaposed to the truth.  My friends, you have as much responsibility to recognize the truth as ministers who are the Ambassadors of God have to preach and teach it.  The Spirit of God, if in us, tunes our hearts to it.
There is another point of note in this first part of the verse.  An Ambassador only stays in a foreign land for a specific period of time.  In this instance we are Ambassadors until we die or until our Sovereign appears in the air to gather His own.
READ:
2 Corinthians 5:18-21 KJV
18 And all things are of God, who hath reconciled us to himself by Jesus Christ, and hath given to us the ministry of reconciliation;
19 To wit, that God was in Christ, reconciling the world unto himself, not imputing their trespasses unto them; and hath committed unto us the word of reconciliation.
20 Now then we are ambassadors for Christ, as though God did beseech you by us: we pray you in Christ's stead, be ye reconciled to God.
21 For he hath made him to be sin for us, who knew no sin; that we might be made the righteousness of God in him.
About the Author
Mychal S. Massie is an ordained minister who spent 13 years in full-time Christian Ministry. Today he serves as founder and Chairman of the Racial Policy Center (RPC), a think tank he officially founded in September 2015. RPC advocates for a colorblind society. He was founder and president of the non-profit "In His Name Ministries." He is the former National Chairman of a conservative Capitol Hill think tank; and a former member of the think tank National Center for Public Policy Research. Read entire bio here