What Will He Find Us Doing? – Sunday Thought For The Day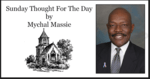 Friday past, the Lord gave me a partial glimpse of what it will be like when Jesus returns to gather the saved in the air with Him.  Here's what happened.
Every Friday we have a men's lunch at church.  Each man brings his own lunch and we fellowship together usually for about two hours.  The conversation is eclectic, but ultimately it always focuses upon Christ in life and the Word of God.
This past Friday.  I had decided to stop at a local country marketplace to get a fruit slushy from a juice stand in the market.  It was approximately 11:30 AM and it would be my first time purchasing something from the juice stand.
As the young lady was making my slushy, we chatted and our conversation led to my witnessing to the her.  I paid with my debit card and as I waited for her to return with my receipt, seemingly out of nowhere, someone squeezed my arm.  To my surprise, it one of the men from church.  He had stopped at the same marketplace to purchase a sandwich for our lunch that day.  He explained that he had walked by, saw me and stopped; but, hearing me witnessing to the woman, he stood quietly as I shared Christ and the woman gave no indication anyone else was standing there.
I was stunned because, as anyone who knows me personally also knows; I'm always alert with respect to my surroundings.  And yet, for the first time in what seemed like forever, I was wholly unaware of someone only a couple of feet from me.  We laughed and departed to church for lunch.
The short time it took to drive from the marketplace to church, I was fixated upon what had just happened.  I couldn't understand how my friend was able to be that close to me for minutes without my realizing.  It occurred to me that's the way it will be when the rapture takes place.  The unsaved will not see, hear or realize that the Lord has gathered His church and when they do it will too late.
I also considered that allowing the rapture takes place in my lifetime, during my waking hours – when Christ returns what will He find me doing?  I was blessed and at the same time humbled that my brother in Christ had silently and unbeknownst to me found me sharing Jesus with someone I had never seen or met in my life.
Which once again raises the question; if Christ returns in our lifetime and we're still alive, what will He find us doing?  Would you want Him to find you behaving in a sinful way or would you want Him to find you doing His work and/or reading your bible?
I remind you; the rapture is going to take place in the twinkling of an eye.  The twinkling of an eye is the time it take for our eyelids to close – not close and open, just close.  Try timing how long it takes for that to happen.  My mind cannot grasp how the dead in Christ will rise first and then those who are alive will follow, all in the time it takes for our eyelids to close.  I do know that no one remaining will see it happening.
No one knows when it's going to happen.  The unsaved will only know that it has happened and then, only after it has taken place, which brings back to my point.
That's what the Lord brought to my mind that morning.  If He returns in our lifetime, and if I'm still alive, I won't have time to hurry up and be obedient.  I can only have Him say "well done thou good and faithful servant," if I've been same before He appears.  We can say that we want to be found being about His work.  But, do we really mean it?  One thing is for sure, if we never share Jesus Christ with anyone, we're already out of step with the Lord.
READ:
Mark 13:32-36 KJV
32 But of that day and that hour knoweth no man, no, not the angels which are in heaven, neither the Son, but the Father.
33 Take ye heed, watch and pray: for ye know not when the time is.
34 For the Son of Man is as a man taking a far journey, who left his house, and gave authority to his servants, and to every man his work, and commanded the porter to watch.
35 Watch ye therefore: for ye know not when the master of the house cometh, at even, or at midnight, or at the cockcrowing, or in the morning:
36 Lest coming suddenly he find you sleeping.
1 Corinthians 15:51-53 KJV
51 Behold, I shew you a mystery; We shall not all sleep, but we shall all be changed,
52 In a moment, in the twinkling of an eye, at the last trump: for the trumpet shall sound, and the dead shall be raised incorruptible, and we shall be changed.
53 For this corruptible must put on incorruption, and this mortal must put on immortality.
About the Author
Mychal S. Massie is an ordained minister who spent 13 years in full-time Christian Ministry. Today he serves as founder and Chairman of the Racial Policy Center (RPC), a think tank he officially founded in September 2015. RPC advocates for a colorblind society. He was founder and president of the non-profit "In His Name Ministries." He is the former National Chairman of a conservative Capitol Hill think tank; and a former member of the think tank National Center for Public Policy Research. Read entire bio here