When We Stand Before The Lord – Sunday Thought For The Day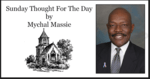 I continue to be amazed by the great number of people I come in contact with, who believe they will go to heaven based upon their own standards of worthiness.  However, I am even more astounded by the greater number of people who think and/or believe that when they stand before God they will be unfazed, and there will be a discussion similar to that with a teacher when an assignment isn't completed on time.  These people foolishly believe that standing before God will be no different than anyone they have "handled" here on earth; and that doesn't include the number of people who even more incredulously have not for an instant given thought to standing before the Lord.
Standing before the Lord is no laughing or joking matter.  It is not something to be assumed as a visit with a "Father Flannigan" or "Burl Ives" type.  I confess that it's more likely than not because I am a born-again Christian that I do not take standing before the Lord lightly; but, with that said, I can tell you that long before I accepted Christ as my Savior, I feared standing before God.  There was something in my consciousness that compelled me to realize that standing before God was not something to be casual about.
Even today, I confess that there are moments that I realize how unworthy I am, and it is only by the sacrificial blood of Christ that I am able to stand before God, forgiven of my sin and reconciled to Him.  And let there be no question, that is not to say I am perfect.  It's to say that Christ paid the penalty for my sin upon the Cross.
It's a free gift to us, but it's a free gift we must accept and receive.  It's not forced upon us and we do not receive it through a priest, parent, symbol or whatever.  We do not receive it by being involved in social ministries and/or being nice to people.  It is given by grace and accepted through faith.
READ:
Exodus 3:6 KJV
6 Moreover he said, I am the God of thy father, the God of Abraham, the God of Isaac, and the God of Jacob. And Moses hid his face; for he was afraid to look upon God.
Revelation 1:9-18 KJV
9 I John, who also am your brother, and companion in tribulation, and in the kingdom and patience of Jesus Christ, was in the isle that is called Patmos, for the word of God, and for the testimony of Jesus Christ.
10 I was in the Spirit on the Lord's day, and heard behind me a great voice, as of a trumpet,
11 Saying, I am Alpha and Omega, the first and the last: and, What thou seest, write in a book, and send it unto the seven churches which are in Asia; unto Ephesus, and unto Smyrna, and unto Pergamos, and unto Thyatira, and unto Sardis, and unto Philadelphia, and unto Laodicea.
12 And I turned to see the voice that spake with me. And being turned, I saw seven golden candlesticks;
13 And in the midst of the seven candlesticks one like unto the Son of man, clothed with a garment down to the foot, and girt about the paps with a golden girdle.
14 His head and his hairs were white like wool, as white as snow; and his eyes were as a flame of fire;
15 And his feet like unto fine brass, as if they burned in a furnace; and his voice as the sound of many waters.
16 And he had in his right hand seven stars: and out of his mouth went a sharp twoedged sword: and his countenance was as the sun shineth in his strength.
17 And when I saw him, I fell at his feet as dead. And he laid his right hand upon me, saying unto me, Fear not; I am the first and the last:
18 I am he that liveth, and was dead; and, behold, I am alive for evermore, Amen; and have the keys of hell and of death.
About the Author
Mychal S. Massie is an ordained minister who spent 13 years in full-time Christian Ministry. Today he serves as founder and Chairman of the Racial Policy Center (RPC), a think tank he officially founded in September 2015. RPC advocates for a colorblind society. He was founder and president of the non-profit "In His Name Ministries." He is the former National Chairman of a conservative Capitol Hill think tank; and a former member of the think tank National Center for Public Policy Research. Read entire bio here