Where Is God When It Hurts? – Sunday Thought For The Day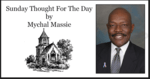 Where is God when it hurts? That's a question we have heard asked many times in various wordings. It is very likely that some reading this have asked that very same question.
My response to the question may surprise you. My response to the question isn't where is God? My response is where are we?
The reality of life is that no one is removed from pain and disappoint on some level at some point in our life. God is not only Eternal, He is most importantly omniscient and omnipresent. He doesn't come and go based upon His interest at a given time. He doesn't get distracted or need naps. He doesn't play cruel games just to see how we will respond. Those are lies of the devil.
If we are in a right relationship with the Lord, we understand that just because we suffer loss, illness or misfortune it doesn't mean that God isn't there.
If we are in a right relationship with God, our moments of suffering and misfortune are when we should desire to draw closer to God. When our son was a little guy and he didn't feel good or he hurt himself, he didn't go to a neighbor to be comforted; he came to us. There was never a moment that he came to us that he was turned away, or was told that we couldn't comfort him because we were busy. It continues to be that way today.
Turning to God in the midst of suffering doesn't always mean the suffering will stop. However, turning to God in the midst of our suffering guarantees we will receive comfort. I know a man whose wife has recently suffered multiple bouts of sepsis. I can tell you from personal observation that he and his family have never asked where God was as his wife lay suffering? Instead, they called upon God for her healing and comfort. They praised God for the assurance that He was with them during these difficult times.
Trusting God and being in a right relationship with Him doesn't mean we won't experience hurt. It does mean however, that when we experience hurt, we can bathe in the warmth of His comfort.
Cursing God and complaining that He doesn't make the hurt go away is tantamount to behaving like a spoiled child who doesn't get their way. But I can tell you also from personal experience, that there is nothing like experiencing God's comforting hand resting upon us when we call go to Him and say, "abba Father, I hurt."
READ:
Philippians 4:4-9 (KJV)
4 Rejoice in the Lord always: and again I say, Rejoice.
5 Let your moderation be known unto all men. The Lord is at hand.
6 Be careful for nothing; but in every thing by prayer and supplication with thanksgiving let your requests be made known unto God.
7 And the peace of God, which passeth all understanding, shall keep your hearts and minds through Christ Jesus.
8 Finally, brethren, whatsoever things are true, whatsoever things are honest, whatsoever things are just, whatsoever things are pure, whatsoever things are lovely, whatsoever things are of good report; if there be any virtue, and if there be any praise, think on these things.
9 Those things, which ye have both learned, and received, and heard, and seen in me, do: and the God of peace shall be with you.
About the Author
Mychal S. Massie is an ordained minister who spent 13 years in full-time Christian Ministry. Today he serves as founder and Chairman of the Racial Policy Center (RPC), a think tank he officially founded in September 2015. RPC advocates for a colorblind society. He was founder and president of the non-profit "In His Name Ministries." He is the former National Chairman of a conservative Capitol Hill think tank; and a former member of the think tank National Center for Public Policy Research. Read entire bio here