Why Are You Going To Church – Sunday Thought For The Day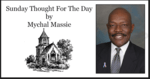 I would like to ask you a deeply personal two-part question: 1) Why do you go to church; and 2) What good does it do you to go to church?
That's right; just why do you to church? How often do ask yourself why you go to church? Have you ever asked yourself why you go to church? How much do you think about church the six days that separate Sunday worship? If your church has a midweek service do attend faithfully or do you find that other things pop up that are important than attending that service?
Regarding part two of this personal question: if you go to church every time the church door is open, what good is it doing for you? Is attending church not only making a difference in your life, but is it making a difference in the lives of others?
Note that I said this was a deeply personal question. Your honest answer to these questions will tell you something about how important God is in your life.
I believe there is a direct correlation between a person's love for church, the anticipation of attendance and their relationship with God. I believe there is a direct correlation between attending church and how much a person exhibits Christ during the days between services.
That said, there is in fact a direct correlation between one's love for God and their selfless obedience to Him. If we are attending a Christ-centered church where the undiluted truth of the Word of God is preached, taught and lived, then we will impact our communities for Christ.
Which brings me to a brutally honest statement of fact. If we are attending church when it's convenient, i.e., when we don't have to sell cookies, do yard work, go to a game or whatever; and/or if we are faithfully attending church every time the door is open for service but we aren't sharing our faith, faithfully praying for the people in our church and in our daily lives, if we are not sharing our personal account of how and why we came to Jesus Christ for salvation and if we are not being about Jesus Christ every day, then why are we attending church?
If we are just going to church because that is what we think we should do and if we are not sharing our faith and being about the gospel of the living Christ, why are we going to church? Because, I tell you that Satan himself is doing more in our church than we are if any of the above is true.
And even more importantly, if we do not understand and grasp the meaning of the previous paragraph, I submit we are spiritually impaired and in critical need of a Spiritual tune-up. Because we are are either not saved at all, in which we are simply going about fooling ourselves or we are spiritually impotent.
READ: Deuteronomy 31:8; 12-13 KJV
8 And the Lord, he it is that doth go before thee; he will be with thee, he will not fail thee, neither forsake thee: fear not, neither be dismayed.
12 Gather the people together, men and women, and children, and thy stranger that is within thy gates, that they may hear, and that they may learn, and fear the Lord your God, and observe to do all the words of this law:
13 And that their children, which have not known any thing, may hear, and learn to fear the Lord your God, as long as ye live in the land whither ye go over Jordan to possess it.
About the Author
Mychal S. Massie is an ordained minister who spent 13 years in full-time Christian Ministry. Today he serves as founder and Chairman of the Racial Policy Center (RPC), a think tank he officially founded in September 2015. RPC advocates for a colorblind society. He was founder and president of the non-profit "In His Name Ministries." He is the former National Chairman of a conservative Capitol Hill think tank; and a former member of the think tank National Center for Public Policy Research. Read entire bio here