Will You Be Made Whole? – Sunday Thought For The Day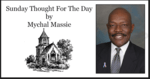 In John 5:1 we read "…there was a feast of the Jews, and Jesus went up to Jerusalem." (KJV).  John did not share with us, which of the Jewish feasts it was, only that it was: " a feast of the Jews."
Notwithstanding, let us focus on the fact that Jesus was not distracted by the events of the feast taking place nor did He allow Himself get burdened down in the unproductive.  John tells us that Jesus went to the pool called Bethesda by sheep gate,  where a great multitude of impotent, blind, lame, and paralyzed people lay.  Those people believed that at a certain time during a certain season an angel would come down and disturb the water, after which the first person into the water was healed of whatever malady they suffered from.
While the Jews and the corrupt of ministry were busy focused upon how well they maintained the strict legalism, which they themselves had instituted and prostituted for personal gain and public applause; Jesus's attention was turned to a man who had been lying there a long time.
Jesus approached the man and asked: "Wilt thou be made whole?"  Rather than answer yes or no the man explained that there was no one to help him into the water at the necessary moment to be healed.
Jesus, after listening, instructed the man: "Rise, take up thy bed, and walk." (John 5:8 KJV)  It's important to note that the man was healed as he followed the instruction of Christ, "to rise, take up his bed and walk."  
The man "had an infirmity thirty and eight years." (John 5:5 KJV)  Many of years of the man's life had been spent begging and lying by the pool, in squalor and filth, waiting for someone to do what only Christ was willing to do and in fact that he alone could do.
The religious and the religious rulers were intent upon keeping the version of the sabbath they had created, which focused on the ostentatious display of rules they made up.  Rules that served to elevate them, but that had no capacity to heal or save them or even change the lives of the poor around them.
Jesus showed two things that day.  One: He was the Lord of the Sabbath; and two, that by His Word alone invalid men can be made whole.
That same Jesus Christ, whose return is imminent, awaits to heal people by the power of His Word today.  But that will only happen if we believe and embrace His holy Word found in scripture.  The man at Bethesda didn't ask how Jesus would heal him; he believed and obeyed the instructions of Jesus.
Therein lies the problem of so many today.  Jesus by the power of His Word is waiting to heal us inwardly and outwardly but the majority of people are more interested in the worthless outward displays of self-righteous behavior.
Jesus today wants to know if we will be made whole?  His Word still heals today.  We must make the choice to obey His Word or reside in a life lived waiting for that which only Christ can do.  But, first we must realize our need to be made whole.
READ:
Psalm 18:3-6 KJV
3 I will call upon the Lord, who is worthy to be praised: so shall I be saved from mine enemies.
4 The sorrows of death compassed me, and the floods of ungodly men made me afraid.
5 The sorrows of hell compassed me about: the snares of death prevented me.
6 In my distress I called upon the Lord, and cried unto my God: he heard my voice out of his temple, and my cry came before him, even into his ears.
About the Author
Mychal S. Massie is an ordained minister who spent 13 years in full-time Christian Ministry. Today he serves as founder and Chairman of the Racial Policy Center (RPC), a think tank he officially founded in September 2015. RPC advocates for a colorblind society. He was founder and president of the non-profit "In His Name Ministries." He is the former National Chairman of a conservative Capitol Hill think tank; and a former member of the think tank National Center for Public Policy Research. Read entire bio here