Would This Claim Be True About Us? – Sunday Thought For The Day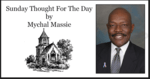 In the Old Testament Book of Job, Satan accused Job of fearing God, i.e., having reverence for God, only because God had given him earthly treasures, not least of which was his family. (See: Job 1:10)  It's important for us to keep in mind that Satan isn't omniscient, i.e., all knowing.  Thus, for him to say something like that, notwithstanding he is a liar – he had to have seen enough instances where said was the case for it not to be a presumptive statement.  Let's examine this for a moment.
How many of us voice platitudes to God's goodness, because none of our earthly treasures including our families, have been threatened?  It's easy to sing of God's goodness if/when we aren't threatened by loss, we've not experienced loss or we are suffering hardship.  But how many of us truly reverence God when He tests our faith and when hardship comes into our lives?
As I said, Satan isn't omniscient.  He doesn't know how we're going to respond before we actually respond.  But, he has been around long enough to have witnessed how people handle hardship and disappointment to make a good guess.
How many of us praised God for the birth of a child, but became bitter and turned away from God in the tragic event our child passed away from disease or accident?  Do we become sullen and withdrawn when we suffer unimaginable illness?  Even if we don't outwardly appear to turn away from God, how many of us harbor secret resentment toward God?
As I said, I believe Satan based his assertion per why Job reverenced God based upon behavior he had witnessed many times over when he was allowed to cause affliction.
The extent to which we truly revere/fear, worship and praise God when we suffer cruel hardship(s) and/or loss,  is the extent to which we will truly reverence God and give thanks when things are going well.  The sad truth is that many of us are fair weather believers.  We sing God's praises by voicing vain platitudes to impress others, (and ourselves), with our perceived righteousness because things are going the way we think we want them.  But how quickly we change our tune when our faith is tested or when things cease to go as we want.
Our love and reverence for our God and our Savior Jesus Christ is not real if same are based upon things and circumstances.  Learning to truly praise and trust God in difficult times reflects the closeness of our relationship with Him.  If we place God above all else in our lives, and if our greatest desire is to be obedient to Him and love Him regardless of our circumstances, we are making a liar out of the devil.
READ
Job 1:8-11 KJV
8 And the Lord said unto Satan, Hast thou considered my servant Job, that there is none like him in the earth, a perfect and an upright man, one that feareth God, and escheweth evil?
9 Then Satan answered the Lord, and said, Doth Job fear God for nought?
10 Hast not thou made an hedge about him, and about his house, and about all that he hath on every side? thou hast blessed the work of his hands, and his substance is increased in the land.
11 But put forth thine hand now, and touch all that he hath, and he will curse thee to thy face.
READ ALSO IN KJV:
Job 1:13-21
About the Author
Mychal S. Massie is an ordained minister who spent 13 years in full-time Christian Ministry. Today he serves as founder and Chairman of the Racial Policy Center (RPC), a think tank he officially founded in September 2015. RPC advocates for a colorblind society. He was founder and president of the non-profit "In His Name Ministries." He is the former National Chairman of a conservative Capitol Hill think tank; and a former member of the think tank National Center for Public Policy Research. Read entire bio here