You Are A Gift From God Above – Sunday Thought For The Day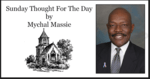 I would like to take this moment to thank everyone who prayed for my surgery to be successful and for me to be healed quickly. I can tell you that your prayers were felt and answered. You are all a blessing from God that I could never have imagined.
My surgery went very well and the pain that I anticipated in the aftermath has been less than I expected. I am already feeling infinitely better. I am able to be up and get around and I am looking forward to going to church with my wife and son.
It is a blessing of God to be able to pray for one another. Petitioning God in prayer for family, friends and in my case persons that I have not met, many of whom I will not meet until we are in glory, is a precious gift from God.
It is a testimony to the grace of God, that we have confidence that as we pray for one another, God hears and answers. It is a testimony to our surrender to Him as we make our requests know unto God and trust Him to answer according to His will for us.
But most of all, it is with confidence that we pray knowing that even in those times He does not answer according to the way we think He should; He is still answering in the way that is best for us, our momentary inability to understand same notwithstanding.
This is what separates we who are true Christians from those who suffer from the cruelty of misguided belief in false gods. We worship God Almighty and He is our gracious, loving Heavenly Father. We have the comfort and assurance that He loves us, hears our prayers and will always answer in the way that brings glory, honor and praise to Himself.
We have what the angels in heaven cannot experience. We have salvation through Jesus Christ and we have God the Father and the indwelling presence of His Holy Spirit. I was reminded of these very truths as I read your kind and gracious remarks in comments, emails and the unexpected phone calls from you.
From the bottom of our hearts, my family and I thank God for each and everyone of you. I can say without a moments hesitation that I love you and that you are a gift from God above. We pray you all a blessed and Christ-centered Merry Christmas and Happy New Year.
Psalms 150 (KJV)
1 Praise ye the Lord. Praise God in his sanctuary: praise him in the firmament of his power.
2 Praise him for his mighty acts: praise him according to his excellent greatness.
3 Praise him with the sound of the trumpet: praise him with the psaltery and harp.
4 Praise him with the timbrel and dance: praise him with stringed instruments and organs.
5 Praise him upon the loud cymbals: praise him upon the high sounding cymbals.
6 Let every thing that hath breath praise the Lord. Praise ye the Lord.
About the Author
Mychal S. Massie is an ordained minister who spent 13 years in full-time Christian Ministry. Today he serves as founder and Chairman of the Racial Policy Center (RPC), a think tank he officially founded in September 2015. RPC advocates for a colorblind society. He was founder and president of the non-profit "In His Name Ministries." He is the former National Chairman of a conservative Capitol Hill think tank; and a former member of the think tank National Center for Public Policy Research. Read entire bio here