You Can't Give What You Don't Have – Sunday Thought For The Day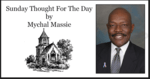 "You can't give what you don't have," is an old axiom that expresses undeniable universal truth.  Nowhere is this truth more applicable than partnered in conjunction to the words written by the Apostle James, the brother of Christ: "But be ye doers of the word, and not hearers only, deceiving your own selves." (James 1:22 KJV)
Cambridge Bible for Schools and Colleges says it well: "The thought is the same, though illustrated by a different similitude, as that of the closing verses of the Sermon on the Mount. The reference to the "hearers of the word" confirms the explanation given above of the Word of the Truth. It is not primarily the written word, for then we should have the "reader," not the "hearer," nor Christ as the Incarnate Word, but the spoken message from God to the soul of man—"Be ye doers;" literally, "become," as though life were a continued process of such "becoming," the condition not being that in which men find themselves by nature.
The emphasis of the instruction given by James is the action and behavior we are too cultivate by repeated action.  People deceive themselves when they equate being a hearer with being a doer.  Hearers do not act, thus they do not obey either.
This is clearly evidenced today by many claiming to be Christians who dismiss and ignore the last instructions of Christ on earth.  Consider the great field of evangelism being ignored by Christendom today – I speak of the rescue of children and families from public schools.
Many churches pretend to be about love and concern for their fellow man.  But they equate embracing the behaviors that God condemns as showing love, rather than calling such behavior(s) sinful disobedience.
We cannot give "Truth" or love apart from Christ, because He is both.  People living in willful disobedience to God's Word, deceive themselves as they completely ignore the tenets of scripture.  Speaking hollow phrases intended to show us as pious, while we reject salvation through Jesus Christ is the antithesis of being a doer of God's Word.  Furthermore, we cannot be doers of God's Word if we do not spend time reading and studying the Word of God.
We play a dangerous game that has perilous eternal consequence when we chose to deceive ourselves by being hearers and not doers.  Dismissing the admonition of James is a quick and sure way to live in disobedience and defeat.
We show love for our Father in heaven by being obedient.  We are obedient when we're doers of His holy Word.  If we are hearers only and not doers, we are living in disobedience.  If we're living in disobedience we are living in rebellion to the Word of God.  We cannot share "Truth" if we are living in defiance and rebellion.
READ:
Matthew 7:21-28 KJV
21 Not every one that saith unto me, Lord, Lord, shall enter into the kingdom of heaven; but he that doeth the will of my Father which is in heaven.
22 Many will say to me in that day, Lord, Lord, have we not prophesied in thy name? and in thy name have cast out devils? and in thy name done many wonderful works?
23 And then will I profess unto them, I never knew you: depart from me, ye that work iniquity.
24 Therefore whosoever heareth these sayings of mine, and doeth them, I will liken him unto a wise man, which built his house upon a rock:
25 And the rain descended, and the floods came, and the winds blew, and beat upon that house; and it fell not: for it was founded upon a rock.
26 And every one that heareth these sayings of mine, and doeth them not, shall be likened unto a foolish man, which built his house upon the sand:
27 And the rain descended, and the floods came, and the winds blew, and beat upon that house; and it fell: and great was the fall of it.
28 And it came to pass, when Jesus had ended these sayings, the people were astonished at his doctrine:
About the Author
Mychal S. Massie is an ordained minister who spent 13 years in full-time Christian Ministry. Today he serves as founder and Chairman of the Racial Policy Center (RPC), a think tank he officially founded in September 2015. RPC advocates for a colorblind society. He was founder and president of the non-profit "In His Name Ministries." He is the former National Chairman of a conservative Capitol Hill think tank; and a former member of the think tank National Center for Public Policy Research. Read entire bio here