A Declaration of Assurance and A Prayer of Promise – Sunday Thought For The Day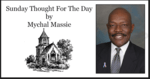 In the 17th chapter of the Gospel of John we read: Christ's high priestly intercessory prayer.  In the King James Version of the Bible, v. 1 of this chapter begins: "These words spake Jesus, and lifted up his eyes to heaven, and said…"  The words "and said" tell us that He"prayed."
Messiah makes seven petitions in His prayer.  The seven petitions can be parsed into three distinct sections: "In vv. 1-5 the Lord prays for Himself; in vv. 6-19 He prays for His disciples; and in vv. 20-26 He prays for all who will accept Him as Savior throughout the whole age after His ascension."
In the second section of the seven petitions of His prayer we read in v. 9: "I pray for them: I pray not for the world, but for them which thou hast given me; for they are thine."  It's the beginning of the third part of Messiah's prayer, which we read in v. 20, that I would like us to focus upon today.
The third section of His seven petitions begin in v. 20 where we read: "Neither pray I for these alone, but for them also which shall believe on me through their word."  Every truly born again child of God should have this verse memorized and we should share it daily as a reminder and encouragement to the saved and unsaved alike.
In John 16:33, summing up all He had been speaking to His disciples in the upper room that evening, Jesus said: "These things I have spoken unto you, that in me ye might have peace. In the world ye shall have tribulation: but be of good cheer; I have overcome the world."  Then in John 17:1, He lifts His eyes to our Father in heaven and prayed seven petitions, which concluded with His praying for you and I.
Messiah's words John 16:33, were not hyperbole.  His words were a matter-of-fact.  They were declarative.  They were a declaration of assurance and a promise of spiritual peace.  Are we to think and/or believe that Messiah was lying in John 16:33 or that God wouldn't answer His prayer John 17:1-26?
It's because of these precious assurances that the Apostle Paul could tell us with absolute certainty in the fourth chapter of Philippians: 6 Be careful for nothing; but in every thing by prayer and supplication with thanksgiving let your requests be made known unto God. 7 And the peace of God, which passeth all understanding, shall keep your hearts and minds through Christ Jesus.
This is what so many Christians fail to recognize or have never given any thought.  We're not exercising faith nor embracing the words of Christ and the price He paid for us to receive them, when we spend our time fretting and worrying about what we see on cable news and/or hear on talk radio.  We aren't to fret ourselves because of evildoers; neither are we to be envious against the workers of iniquity.
We aren't believing the promises of God when we place our trust and hope in the words of charlatans, infidels and blasphemers on television, radio and videos who claim to believe in God, but have in fact have an adulterous relationship with our Lord or at worst no relationship at all.
What greater assurance can we have than to be truly born again and know for a fact that our peace and security comes from Messiah, who also prayed for us to be one with Him and our Father in heaven.  At what point do we believe the life-giving eternal words of Christ and pay less attention to those who believe little to none of the Word of God.
READ:
John 17:1-26 KJV
1 These words spake Jesus, and lifted up his eyes to heaven, and said, Father, the hour is come; glorify thy Son, that thy Son also may glorify thee:
2 As thou hast given him power over all flesh, that he should give eternal life to as many as thou hast given him.
3 And this is life eternal, that they might know thee the only true God, and Jesus Christ, whom thou hast sent.
4 I have glorified thee on the earth: I have finished the work which thou gavest me to do.
5 And now, O Father, glorify thou me with thine own self with the glory which I had with thee before the world was.
6 I have manifested thy name unto the men which thou gavest me out of the world: thine they were, and thou gavest them me; and they have kept thy word.
7 Now they have known that all things whatsoever thou hast given me are of thee.
8 For I have given unto them the words which thou gavest me; and they have received them, and have known surely that I came out from thee, and they have believed that thou didst send me.
9 I pray for them: I pray not for the world, but for them which thou hast given me; for they are thine.
10 And all mine are thine, and thine are mine; and I am glorified in them.
11 And now I am no more in the world, but these are in the world, and I come to thee. Holy Father, keep through thine own name those whom thou hast given me, that they may be one, as we are.
12 While I was with them in the world, I kept them in thy name: those that thou gavest me I have kept, and none of them is lost, but the son of perdition; that the scripture might be fulfilled.
13 And now come I to thee; and these things I speak in the world, that they might have my joy fulfilled in themselves.
14 I have given them thy word; and the world hath hated them, because they are not of the world, even as I am not of the world.
15 I pray not that thou shouldest take them out of the world, but that thou shouldest keep them from the evil.
16 They are not of the world, even as I am not of the world.
17 Sanctify them through thy truth: thy word is truth.
18 As thou hast sent me into the world, even so have I also sent them into the world.
19 And for their sakes I sanctify myself, that they also might be sanctified through the truth.
20 Neither pray I for these alone, but for them also which shall believe on me through their word;
21 That they all may be one; as thou, Father, art in me, and I in thee, that they also may be one in us: that the world may believe that thou hast sent me.
22 And the glory which thou gavest me I have given them; that they may be one, even as we are one:
23 I in them, and thou in me, that they may be made perfect in one; and that the world may know that thou hast sent me, and hast loved them, as thou hast loved me.
24 Father, I will that they also, whom thou hast given me, be with me where I am; that they may behold my glory, which thou hast given me: for thou lovedst me before the foundation of the world.
25 O righteous Father, the world hath not known thee: but I have known thee, and these have known that thou hast sent me.
26 And I have declared unto them thy name, and will declare it: that the love wherewith thou hast loved me may be in them, and I in them.
About the Author
Mychal S. Massie is an ordained minister who spent 13 years in full-time Christian Ministry. Today he serves as founder and Chairman of the Racial Policy Center (RPC), a think tank he officially founded in September 2015. RPC advocates for a colorblind society. He was founder and president of the non-profit "In His Name Ministries." He is the former National Chairman of a conservative Capitol Hill think tank; and a former member of the think tank National Center for Public Policy Research. Read entire bio here