How Far Has Faith Brought You? – Sunday Thought For The Day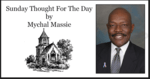 As Christians, the more we lean upon Jesus, the more we learn to trust Him.  Every Tuesday evening our prayer group meets at church to share updates, prayer requests and for the week preceding.  Last week as we shared and gave testimony to the glory of God, the Holy Spirit brought a hymn by the Gaither family that we used to sing in our first church many years ago.  The hymn is titled: "We've Come This Far by Faith."  It was one of those special moments when God literally steps into our here and now.
As many know, I spent the first eight months of this year with a myriad of health issues.  But, as I have repeatedly said, God was faithful beyond what I could have hoped or thought.  There was never a moment that I doubted God wasn't going to bring me through the health issues.  I told my family that the first afternoon we spent in the hospital digesting what the doctors had said.
I had spent nearly 40-years leaning on the Lord before this moment, and God had never failed me, even though I had failed Him.  This past week, the waves of the spiritual seas of time washed over me, reminding me that my faith in God was secured by a lifetime of leaning on Him.
I know that I can believe on the Lord to bring me through every situation, because from the moment I  placed my faith in Him, He has not once failed me.  Thus, the reason we pray in faith believing.  While every prayer Tuesday evening was made with confidence, they were made in Jesus' name, making our petitions known: "Here is what we desire Father; They will be done."
We walk by faith, not by sight.  I encourage you to never stop believing.  The more we are committed to believing, the more we see God work, and the more our faith is built up in the Lord.
READ:
Psalm 28:6-9 KJV
6 Blessed be the Lord, because he hath heard the voice of my supplications.
7 The Lord is my strength and my shield; my heart trusted in him, and I am helped: therefore my heart greatly rejoiceth; and with my song will I praise him.
8 The Lord is their strength, and he is the saving strength of his anointed.
9 Save thy people, and bless thine inheritance: feed them also, and lift them up for ever.
About the Author
Mychal S. Massie is an ordained minister who spent 13 years in full-time Christian Ministry. Today he serves as founder and Chairman of the Racial Policy Center (RPC), a think tank he officially founded in September 2015. RPC advocates for a colorblind society. He was founder and president of the non-profit "In His Name Ministries." He is the former National Chairman of a conservative Capitol Hill think tank; and a former member of the think tank National Center for Public Policy Research. Read entire bio here