If You Can't Remember There's A Reason – Sunday Thought For The Day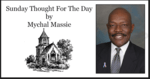 I never assume a person is saved, i.e., born again, just because they claim to believe in God, love Jesus, reference themself as a Christian and/or say they're going to heaven.  I'm finding more and more today that many people who refer to themselves as such, are no more Christian than a sheet of notebook paper.
The first thing I ask a person is how long they've been saved?  In the last weeks I've had persons respond: "they've been saved all their lives" and "they were born saved."  That's when I ask the question they cannot fake: "When did you accept Christ as your Savior?"  The answers I get in response are tragic and prove the words of Christ in Matthew 7:14 (KJV) "…and few there be that find it."
There are those who cannot share with you when they came to Christ, i.e., when they accepted Christ as Savior.  That's like a person saying they don't know when they meant their spouse, bought their first car or where they grew up as a child.
As implausible as it may sound there are those who admit they don't believe they need salvation through Jesus Christ, but they believe their going to heaven.  Some people claim they were baptized as a child.  With the aforementioned in noway being the exhaustive number of different answers I've received, suffice it to say none of these responses are evidence of a person being born-again.
Jesus said: "Verily, verily, I say unto you thee, Except a man be born again, he cannot see the kingdom of God." (John 3:3 KJV)
We cannot simply accept the response of a person at face value when it comes to salvation.  Unless a person, has confessed their sins, professed their belief that Christ Jesus is the Son of God, i.e., God in  flesh and repented of their sinful way they are not saved.
People become angry and want to shoot the messenger so to speak.  But, that is because, the truth of Christianity is found exclusively in Jesus Christ.  There's no other way for a person to be saved.  It grieves me deeply when I hear friends play Christian.  Made up platitudes don't make a person saved.
There is one Mediator between God and man, and that is Christ Jesus alone.  Priests cannot forgive your sins nor absolve you of them.  Baby baptism is heretic practice that's practiced at an individual's eternal peril.
Any person who cannot share their conversion with you, cannot, because they do not have one.  And any conversion account that doesn't include confession, professing, believing that God raised Him from the grave, acceptance and repentance isn't one.
I cannot site the exact date, but I can tell you the day, the hour, the year and the circumstances of my coming to Christ.  I remember the moment vividly down to the last detail.  That moment is indelibly etched in my being.  I will never forget it.  I cannot forget it.  It is the same for every other true believer.  A word of caution however.  I've witnessed people in church claim to have accepted Christ; but you cannot be truly saved with hatred, bitterness and anger in your heart.
READ:
Romans 10:8-13 KJV
8 But what saith it? The word is nigh thee, even in thy mouth, and in thy heart: that is, the word of faith, which we preach;
9 That if thou shalt confess with thy mouth the Lord Jesus, and shalt believe in thine heart that God hath raised him from the dead, thou shalt be saved.
10 For with the heart man believeth unto righteousness; and with the mouth confession is made unto salvation.
11 For the scripture saith, Whosoever believeth on him shall not be ashamed.
12 For there is no difference between the Jew and the Greek: for the same Lord over all is rich unto all that call upon him.
13 For whosoever shall call upon the name of the Lord shall be saved.
About the Author
Mychal S. Massie is an ordained minister who spent 13 years in full-time Christian Ministry. Today he serves as founder and Chairman of the Racial Policy Center (RPC), a think tank he officially founded in September 2015. RPC advocates for a colorblind society. He was founder and president of the non-profit "In His Name Ministries." He is the former National Chairman of a conservative Capitol Hill think tank; and a former member of the think tank National Center for Public Policy Research. Read entire bio here