Is All Sin Bad? – Sunday Though For The Day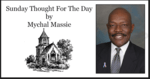 It's a fact that homosexuality, transgenderism and every other form of sexual perversion is sin.  Those who refuse to repent and accept Christ as their Savior, sacrificed on the cross for forgiveness of our sins will experience eternal agony in hell beyond comprehension.
But, Revelation 21:8 is God's immutable assurance that those men and women who practice such sexual depravity won't suffer alone.  The verse makes it abundantly clear who else will suffer the same eternal consequences: "But the fearful, and unbelieving, and the abominable, and murderers, and whoremongers, and sorcerers, and idolaters, and all liars, shall have their part in the lake which burneth with fire and brimstone: which is the second death." (KJV)
The point I'm drawing our attention to, is that we categorize sin.  In the eyes of God all sin is sin with the exception of blasphemy of the Holy Spirit, for which there is no forgiveness; and homosexuality and lesbianism, which God expresses His inescapable condemnation by calling same an "abomination."
Judging ourselves to be above those who commit such offenses, because we don't, is a fool's errand.  It's Satan's lie to prevent man from realizing their need to accept Christ as their Savior.  We declare ourselves good, because in our eyes we aren't doing the bad things others are doing.
Thus the function of the Ten Commandments.  In them is the sum total of all sin possible by man, including all of its permutations.  They're our "schoolmaster" to show us our need for a Savior.  They're to show us our inability to be personally reconciled to God.  The reason is, because if we break one of the Ten Commandments we've broken them all.  Thus, it's impossible to keep them all.
When I hear a person claim to be keeping the Ten Commandments, I think the poor person is tragically deluded and totally misguided.  But, when I hear and see my friends and foes alike consciously reject salvation through Jesus Christ, I think: Thou fool; has Satan so hardened your heart?  There's no savior but Jesus.
READ:
Romans 3:10-28 KJV
10 As it is written, There is none righteous, no, not one:
11 There is none that understandeth, there is none that seeketh after God.
12 They are all gone out of the way, they are together become unprofitable; there is none that doeth good, no, not one.
13 Their throat is an open sepulchre; with their tongues they have used deceit; the poison of asps is under their lips:
14 Whose mouth is full of cursing and bitterness:
15 Their feet are swift to shed blood:
16 Destruction and misery are in their ways:
17 And the way of peace have they not known:
18 There is no fear of God before their eyes.
19 Now we know that what things soever the law saith, it saith to them who are under the law: that every mouth may be stopped, and all the world may become guilty before God.
20 Therefore by the deeds of the law there shall no flesh be justified in his sight: for by the law is the knowledge of sin.
21 But now the righteousness of God without the law is manifested, being witnessed by the law and the prophets;
22 Even the righteousness of God which is by faith of Jesus Christ unto all and upon all them that believe: for there is no difference:
23 For all have sinned, and come short of the glory of God;
24 Being justified freely by his grace through the redemption that is in Christ Jesus:
25 Whom God hath set forth to be a propitiation through faith in his blood, to declare his righteousness for the remission of sins that are past, through the forbearance of God;
26 To declare, I say, at this time his righteousness: that he might be just, and the justifier of him which believeth in Jesus.
27 Where is boasting then? It is excluded. By what law? of works? Nay: but by the law of faith.
28 Therefore we conclude that a man is justified by faith without the deeds of the law.
About the Author
Mychal S. Massie is an ordained minister who spent 13 years in full-time Christian Ministry. Today he serves as founder and Chairman of the Racial Policy Center (RPC), a think tank he officially founded in September 2015. RPC advocates for a colorblind society. He was founder and president of the non-profit "In His Name Ministries." He is the former National Chairman of a conservative Capitol Hill think tank; and a former member of the think tank National Center for Public Policy Research. Read entire bio here