Is God In Heaven? – Sunday Thought For The Day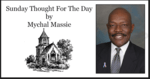 Is God in Heaven? It is a yes or no question. For true born-again Christians the answer is an unequivocal yes. For those who are not saved, the answer can range from a tepid I think so – to I'm not sure. For atheists the answer is no.
Putting aside for the moment the unsaved and the deniers; I ask those who profess to be born-again Christians: If God is in Heaven, is He not the same God who spoke to Moses, Abraham, Jacob, and Noah? Is He not the same God who protected David, and who worked mighty miracles through and for Elijah? The answer is yes. But the caveat is, do we believe it?
Psalms 119:89 says: "Forever, O Lord, thy word is settled in Heaven." (KJV) That means His Word is immutable, which means God's Word is unchangeable. The very next verse, Psalms 119:90 tells us: "Thy faithfulness is unto all generations…" (KJV) We cannot believe either of those verses unless we believe both.
If we profess to believe God's Word is immutable and that His faithfulness is unto all generations, then the question that begs an answer is: What witness and testimony are we showing the unsaved and the deniers when we as supposedly born-again Christians are quaking and shivering under our tables during the Covid19 outbreak? What truth do our words, in reality have for the unsaved and deniers if Christians are behaving like them? What comfort and assurance is there in our words when we tell the unsaved and deniers that God is in control but behave as if He has no authority over this virus?
How are we conveying the message of fact, that God is our strength, our buckler and our shield, if we are behaving like terrified unbelievers and deniers? What message are we conveying to those believers who are weak in the faith when we are acting like the unsaved and the deniers?
This is the time that those who are true born-again Christians must stand up and proclaim Jesus Christ. This is the time that Christians should be gathering at the altar in their Churches, getting on their knees at home, and as families asking God to not just protect us from this virus but to use it to bring people to salvation in Jesus Christ. We should be petitioning God to place the words of scripture in our mouth to speak to one another and too the unsaved and deniers.
This is the time that we must tell people this virus is nothing compared to what awaits those who are left behind when Christ returns for His Church. This is the time we reinforce to our children the promises of God. It's the time that we proclaim God is real and that He is greater than any virus.
We must decide, if we believe that the same God who led Moses safely across the Red Sea, is our God. In brief, we must decide if we believe our God reigns.
If we're not spending time every day reading God's Word, we are ignorant of His promises and we are unaware of His mighty works. Which means there is nothing in our words that will give Spirit-filled assurance to the unsaved and deniers.
We are ambassadors for Christ, which means we are to deliver His message of reconciliation. We are also to deliver His message of assurance – and we are to deliver both messages clearly, boldly, confidently, and without respect of persons.
READ: Matthew 5:13-16 (KJV)
13 Ye are the salt of the earth: but if the salt have lost his savour, wherewith shall it be salted? it is thenceforth good for nothing, but to be cast out, and to be trodden under foot of men.
14 Ye are the light of the world. A city that is set on an hill cannot be hid.
15 Neither do men light a candle, and put it under a bushel, but on a candlestick; and it giveth light unto all that are in the house.
16 Let your light so shine before men, that they may see your good works, and glorify your Father which is in heaven.
About the Author
Mychal S. Massie is an ordained minister who spent 13 years in full-time Christian Ministry. Today he serves as founder and Chairman of the Racial Policy Center (RPC), a think tank he officially founded in September 2015. RPC advocates for a colorblind society. He was founder and president of the non-profit "In His Name Ministries." He is the former National Chairman of a conservative Capitol Hill think tank; and a former member of the think tank National Center for Public Policy Research. Read entire bio here