Rejoice In The Joy Of Your Forgiveness – Sunday Thought For The Day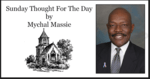 In 1 Timothy 1:15, the Apostle Paul wrote: "This is a faithful saying, and worthy of all acceptation, that Christ Jesus came into the world to save sinners; of whom I am chief." (KJV)
Paul did not hide the man he was before Christ interrupted him on the road to Damascus. In fact, in Acts 22:4 he gave his testimony saying in part: "And I persecuted this way unto the death, binding and delivering into prisons both men and women." (KJV)
In Acts 9:26 (KVJ), we are told that at the beginning of Paul's Apostleship the other disciples "were all afraid of him, and believed not that he was a disciple." But, Barnabas came to his defense and testified of Paul's conversion and of his boldness in preaching at Damascus in the name of Jesus.
Therein after we do not read of Paul's past being thrown in his face in an attempt to guilt him by those who were not walking in obedience to the Lord.
Which brings me to the point of my message today. Many of us who are truly saved have had family, friends and/or others who knew us before we were saved, throw up to us what we used to be like.
My friends, I say to you, do not let them bother you. Scripture tells us that "all have sinned and come short of the glory of God." (Romans 3:23 KJV) The difference is that if we have confessed and repented of our sins, and believed on the Lord Jesus Christ, we have been forgiven. God no longer holds our former behavior over our heads nor does He heap guilt upon us.
That is what Satan does. Satan is the accuser of the brethren. It is he who uses people to accuse us and/or to attempt to guilt us for the past life we lived. We need not sorrow or feel guilty for that period in our lives, rather we are to rejoice as did the Apostle Paul in the grace of God and Salvation through Jesus Christ. Because we have the promise from God's word: "And their sins and iniquities will I remember no more." (Hebrews 10:17 KJV)
We must learn to accept God's forgiveness and live victorious lives by and through the power of the Holy Spirit. We must not permit anyone to rob us of the joy of our forgiveness. That includes ourselves. We are to be examples of God's grace and forgiveness.
READ: 1 Timothy 1:12-16 (KJV)
12 And I thank Christ Jesus our Lord, who hath enabled me, for that he counted me faithful, putting me into the ministry;
13 Who was before a blasphemer, and a persecutor, and injurious: but I obtained mercy, because I did it ignorantly in unbelief.
14 And the grace of our Lord was exceeding abundant with faith and love which is in Christ Jesus.
15 This is a faithful saying, and worthy of all acceptation, that Christ Jesus came into the world to save sinners; of whom I am chief.
16 Howbeit for this cause I obtained mercy, that in me first Jesus Christ might shew forth all longsuffering, for a pattern to them which should hereafter believe on him to life everlasting.
About the Author
Mychal S. Massie is an ordained minister who spent 13 years in full-time Christian Ministry. Today he serves as founder and Chairman of the Racial Policy Center (RPC), a think tank he officially founded in September 2015. RPC advocates for a colorblind society. He was founder and president of the non-profit "In His Name Ministries." He is the former National Chairman of a conservative Capitol Hill think tank; and a former member of the think tank National Center for Public Policy Research. Read entire bio here