The Gift of Unanswered Prayer – Sunday Thought For The Day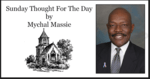 Last Sunday morning one of the ladies in our church reminded me that one of God's greatest gifts to us is the gift of unanswered prayer.  Unanswered prayer doesn't always mean no!  Sometimes it means not now or wait.  However, unanswered prayer(s) doesn't give us cause to pout, be maudlin, become resentful, petulant or as I've seen some people, become bitter and deeply resentful that God didn't answer their prayer(s).
The truth be said, many today view and treat God as the ultimate get-your-wish-answered-here celestial website, albeit they would be loathe to publicly admit it.  There is neither honor nor respect for God just the unwarranted hope that when we pray, He gets our demands right.
For true born-again believers unanswered prayer is a blessing, because God kept us from something fraught with bad outcome.  Every true Christian can share examples of such experiences.  Sometimes unanswered prayers are to teach us patience and perseverance.  And yet, other times unanswered prayers are simply answered prayers not yet received.
When we surrender our will, wants, and desires to God and to His will, we're saying we trust Him more than we trust ourselves and/or any other agency; it doesn't mean we become automatons.  It means we're placing our faith and trust in He who never fails.  The test is do we try to micromanage and/or manipulate the outcome to get what we want.  In which case, we're not trusting God – we're trying to handle God.
Jesus instructed us to pray using the third petition of "The Lord's Prayer," i.e., "Thy will done…"  Jesus himself prayed "nevertheless, not my will, but thine be done."
Submitting our wants to God's will, can only truly be done when we truthfully place God above all else in our lives and before all others.  Remember, Abram placed God above Isaac.
We say we want God's will for our lives above our own and above all else, but how often when that is said, are we deceiving ourselves à la Jeremiah 17:9 KJV?  Do we really want God's will done above all else if His will is for us not to have the career we want more than anything else in the world?  How many people are buried in debt, because they wanted a grander house, a new vehicle, toys or vacation trip(s) more than God's will and gave only lip service to that not being the case?  Suppose His will is for us to endure illness or the loss of a child?
Anything we want more than God; anything we want more than God's will for us is an idol.  It's also covetousness.  In either case it's having another god before God.  I've seen countless numbers of people who's god is their career.  They give lip service per God being first and foremost, but it's nothing more than lip service.  They want what they want more than anything else and will go to extremes to possess same.  Consider the number of people who allowed themselves to be injected with a deadly toxin with known horrific and permanent side effects, notwithstanding the as yet unknown side effects, because they didn't trust God to provide if they said no.
I want God to have primacy in my life.  When I say God is first in my life, I want that to be the truth.  I want nothing and no one before Him, because I know of no better way to live.  I know that God alone will never leave me nor forsake me; I know He alone will never betray me; I know that He alone will never indulge me in what is harmful even when the harm is afar off in my distant future.  I know that I can trust Him.  And when I'm tested by delay or unanswered prayer, I want Him to know that He can trust me to accept His will.
READ:
Psalm 31:1-7, 14, 19-24 KJV
1 In thee, O Lord, do I put my trust; let me never be ashamed: deliver me in thy righteousness.
2 Bow down thine ear to me; deliver me speedily: be thou my strong rock, for an house of defence to save me.
3 For thou art my rock and my fortress; therefore for thy name's sake lead me, and guide me.
4 Pull me out of the net that they have laid privily for me: for thou art my strength.
5 Into thine hand I commit my spirit: thou hast redeemed me, O Lord God of truth.
6 I have hated them that regard lying vanities: but I trust in the Lord.
7 I will be glad and rejoice in thy mercy: for thou hast considered my trouble; thou hast known my soul in adversities;
14 But I trusted in thee, O Lord: I said, Thou art my God.
19 Oh how great is thy goodness, which thou hast laid up for them that fear thee; which thou hast wrought for them that trust in thee before the sons of men!
20 Thou shalt hide them in the secret of thy presence from the pride of man: thou shalt keep them secretly in a pavilion from the strife of tongues.
21 Blessed be the Lord: for he hath shewed me his marvellous kindness in a strong city.
22 For I said in my haste, I am cut off from before thine eyes: nevertheless thou heardest the voice of my supplications when I cried unto thee.
23 O love the Lord, all ye his saints: for the Lord preserveth the faithful, and plentifully rewardeth the proud doer.
24 Be of good courage, and he shall strengthen your heart, all ye that hope in the Lord.
About the Author
Mychal S. Massie is an ordained minister who spent 13 years in full-time Christian Ministry. Today he serves as founder and Chairman of the Racial Policy Center (RPC), a think tank he officially founded in September 2015. RPC advocates for a colorblind society. He was founder and president of the non-profit "In His Name Ministries." He is the former National Chairman of a conservative Capitol Hill think tank; and a former member of the think tank National Center for Public Policy Research. Read entire bio here