The Service After Christmas Eve – Sunday Thought For The Day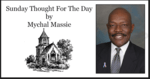 As I write this, it's early Sunday morning. As with every Sunday morning, I find myself eagerly looking forward to gathering with my church family. Before the morning worship service begins all are welcome to join together for an hour period of prayer at the Altar.
This is a special period of warmth, fellowship, and prayer, both for personal concerns and for those on our church prayer list. It's a special time of worship in prayer attended by adult and teenagers alike.
The period is followed by our regular worship service. This morning is special, because in our church it has become a carryover from Christmas Eve worship service. Our Christmas Eve service was an extraordinary coming together to worship Christ. It was a wonderful minimalistic gathering of saved and unsaved, young and old, families and infants, joined as one giving praise and thanks.
This morning we continue that moment as though it had not ended, because for us it hasn't. We didn't come together for a Church program, we came together to worship and give praise, on the Eve of the day Christians have chosen to celebrate the birth of our Savior.
This morning is met with eager anticipation of joining with my Church family to continue to worship the birth of our Lord and Savior. For us, and I know that speak for the many, worshipping and praising God is truly the most special time of this Christmas Season.
As a minister and Church leader, this is truly a preview of what I anticipate Heaven to be like. It will be a joining together of the redeemed to worship and sing praises to our God. It won't be about the commercial, it will be about the Child who was born to die for our sins; so that whosoever believed in Him, accepted Him, confessed to Him for the forgiveness of their sin and repented of same, would not perish but have everlasting life.
I feel sorry for those who attend Christmas Church services and can only say that the children's program was good and/or that the pastor preached a good message but who cannot explain why it was a good message. I feel heartbreak for the unsaved who went to a Christ-centered service and came away unchanged. Because two things are for sure: 1) We do not know the moment of our last breath; and 2) The return of Christ for His own is imminent.
The allotted time for salvation, i.e., the period of grace, is not forever. For some it will end when they die, for others it will end when the Lord returns. But rest assured, the period of grace we have available to us now will end.
The question that each and everyone of us must answer is whether or not we can truthfully say Heaven awaits us. "I hope so" is not the right answer. Neither is the right answer, "I don't believe in Heaven and hell", because you can believe this – the day awaits that you will.
READ:
Luke 2:15-20 KJV
15 And it came to pass, as the angels were gone away from them into heaven, the shepherds said one to another, Let us now go even unto Bethlehem, and see this thing which is come to pass, which the Lord hath made known unto us.
16 And they came with haste, and found Mary, and Joseph, and the babe lying in a manger.
17 And when they had seen it, they made known abroad the saying which was told them concerning this child.
18 And all they that heard it wondered at those things which were told them by the shepherds.
19 But Mary kept all these things, and pondered them in her heart.
20 And the shepherds returned, glorifying and praising God for all the things that they had heard and seen, as it was told unto them.
About the Author
Mychal S. Massie is an ordained minister who spent 13 years in full-time Christian Ministry. Today he serves as founder and Chairman of the Racial Policy Center (RPC), a think tank he officially founded in September 2015. RPC advocates for a colorblind society. He was founder and president of the non-profit "In His Name Ministries." He is the former National Chairman of a conservative Capitol Hill think tank; and a former member of the think tank National Center for Public Policy Research. Read entire bio here