The Super Bowl vs. God – Sunday Thought For The Day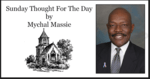 The so-called Super Bowl is upon America, and I say this is a perfect time for those who say they are Christians to examine themselves as to how important the "Word" and work of the Lord is to them.
If those who call themselves Christians are more excited about a football game than they are about sharing the "Word" of the Lord, football is their god. I get a lot of pushback when I say this but people being offended by my words, makes what I have said no less true.
I'm not talking about the unsaved, they are expected to behave as unsaved persons do. It is those who claim to be Christians that I am challenging, and it is not because, I have no interest in or use for football. The truth is, that I don't have interest or use for football; but I do for other activities, which means I must examine myself regarding those things and their place in my life. I am challenging those who say they are Christians to evaluate how much God really means to them in relationship to how much attention they devote to things other than God.
Being a Christian means having a relationship with our Heavenly Father through Christ His Son. We cannot have a healthy relationship, if we put other things and other people before the "one" we claim to love about most.
Specific to that point, how often do you as someone identifying as a Christian, host an afternoon or evening of bible reading at your home? There will no shortage of Super Bowl parties, but how often do we invite people to our homes to read and talk about the bible; and what is the reason(s) for not doing same?
How many Monday mornings do you go to your place of employment as excited about the message your pastor preached on Sunday as you do the morning after the Super Bowl? How often do you go to work or even go to church excited to share that you led someone to Christ during the week? How often do you go to church eager to share what the Lord has done for you during the week? How much personal time do devote exclusively to God, compared to the hours that you spend watching football, the Super Bowl and all of the hyped lead-ins and replays, etc?
I'm not condemning football, I am challenging those who claim to be Christians, who place a higher importance on a game than they do on "being about the work of the Lord." It doesn't have to be about a game only. Anything that consumes us more than the Lord, is our god.
We can convince ourselves that our relationship with God is the most important thing in our lives, but if we are not putting God first — if we are not sharing God with the more excitement that we prepare for the Super Bowl or look forward to discussing the Super Bowl, then God is not first in our life.
And if God is not first in our life, just what kind of relationship do we have with Him?
READ: 1 Corinthians 2:2-16 (KJV)
2 For I determined not to know any thing among you, save Jesus Christ, and him crucified.
3 And I was with you in weakness, and in fear, and in much trembling.
4 And my speech and my preaching was not with enticing words of man's wisdom, but in demonstration of the Spirit and of power:
5 That your faith should not stand in the wisdom of men, but in the power of God.
6 Howbeit we speak wisdom among them that are perfect: yet not the wisdom of this world, nor of the princes of this world, that come to nought:
7 But we speak the wisdom of God in a mystery, even the hidden wisdom, which God ordained before the world unto our glory:
8 Which none of the princes of this world knew: for had they known it, they would not have crucified the Lord of glory.
9 But as it is written, Eye hath not seen, nor ear heard, neither have entered into the heart of man, the things which God hath prepared for them that love him.
10 But God hath revealed them unto us by his Spirit: for the Spirit searcheth all things, yea, the deep things of God.
11 For what man knoweth the things of a man, save the spirit of man which is in him? even so the things of God knoweth no man, but the Spirit of God.
12 Now we have received, not the spirit of the world, but the spirit which is of God; that we might know the things that are freely given to us of God.
13 Which things also we speak, not in the words which man's wisdom teacheth, but which the Holy Ghost teacheth; comparing spiritual things with spiritual.
14 But the natural man receiveth not the things of the Spirit of God: for they are foolishness unto him: neither can he know them, because they are spiritually discerned.
15 But he that is spiritual judgeth all things, yet he himself is judged of no man.
16 For who hath known the mind of the Lord, that he may instruct him? but we have the mind of Christ.
About the Author
Mychal S. Massie is an ordained minister who spent 13 years in full-time Christian Ministry. Today he serves as founder and Chairman of the Racial Policy Center (RPC), a think tank he officially founded in September 2015. RPC advocates for a colorblind society. He was founder and president of the non-profit "In His Name Ministries." He is the former National Chairman of a conservative Capitol Hill think tank; and a former member of the think tank National Center for Public Policy Research. Read entire bio here