We Go To Church To Worship God, Not Drink Coffee And Socialize – Sunday Thought For The Day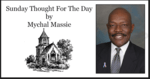 There was a time Christians and those seeking Christ went to church to worship God; but today more and more people are not going to church to worship God – they're going to church to celebrate man.  Fewer and fewer churches today are true Houses of Worship.  More and more churches are becoming decayed social clubs.
I am wholly opposed to coffee/latte bars in the church on Sunday morning or during any period that is designated for worship.  I am absolutely opposed to what amounts to low budget, poorly performed stage shows that masquerade as preaching in some churches.  I'm also opposed to what are called 'praise songs' that are more like rock and roll performances with Christ's name in the lyrics.
The church is not a de facto Starbucks.  It is a House of Worship.  If people are standing around with cups of coffee, tea and/or croissants and donuts, they're not preparing their hearts for worshipping God!  Consider too, the number of people who go to church without a bible.  I will never understand how anyone who claims to be a Christian comes to church without one.  It's a safe bet – if a person doesn't bring it to church, they aren't using it at home.  If we do not have a mindset of worshipping and praising God in church, how are people expected to have same outside of the church?
Watching people walk out of the sanctuary during service and return with a cup of coffee, sit down and lean back as if they're catching a show at the local theater or some such is appalling.  How is that a mindset concentrated on worship of God?  The simple answer is: "It's not!!"  I'm of the mindset that how we behave in the house of God, speaks vividly to how we view God.  I'm not opposed to fellowship in God's house, I'm opposed to how said is being done in many churches today.  I cannot wait to get to church to share in worship, edify one another, be with my church family and to hear/share what God has done for us during the week.
We're called to be an army of Christian warriors for God.  That means Christians are to be strong, steadfast, committed, singularly focused upon the work of the Lord.  The enemy of our souls is cunningly relentless, a deceiver and a liar.  His singular objective is to have people reject Christ as Savior and too lead those who have accepted Christ astray or cause them to be distracted from the true mission of the church. (Cp: Nehemiah 6:1-14 KJV)  And thanks to weak church leadership, Satan's efforts are made easier.  It's also the reason we see an increasing number of weak, spiritually anemic Christians today.
Gossip, who won the big game, politics, blah-blah is not the interest of the church Sunday morning or before worship in the midweek.  Conversations and thoughts should be focused on things pertaining God.  Church leadership should teach people the importance of worshipping the Lord.  The church isn't an indoor promenade where people come; have coffee/tea, maybe a pastry and watch what amounts to a sidewalk performance in front of a podium.
Some churches claim that coffee/tea and theatrics are tools to get people into church.  I say the Word of God is the tool to get people into church by the power of the Holy Spirit.  Redeem the time to worship God and preach/teach His Holy Word.
God is to be worshipped and obeyed.  We're to fear the Lord and seek after Him.  We're not treating God with reverential respect by bringing bringing a watered down version of the world into the House of the Lord.  And we certainly are not preparing people for the battle/work to which we are called.
READ:
2 Timothy 2:1-15 KJV
1 Thou therefore, my son, be strong in the grace that is in Christ Jesus.
2 And the things that thou hast heard of me among many witnesses, the same commit thou to faithful men, who shall be able to teach others also.
3 Thou therefore endure hardness, as a good soldier of Jesus Christ.
4 No man that warreth entangleth himself with the affairs of this life; that he may please him who hath chosen him to be a soldier.
5 And if a man also strive for masteries, yet is he not crowned, except he strive lawfully.
6 The husbandman that laboureth must be first partaker of the fruits.
7 Consider what I say; and the Lord give thee understanding in all things.
8 Remember that Jesus Christ of the seed of David was raised from the dead according to my gospel:
9 Wherein I suffer trouble, as an evil doer, even unto bonds; but the word of God is not bound.
10 Therefore I endure all things for the elect's sakes, that they may also obtain the salvation which is in Christ Jesus with eternal glory.
11 It is a faithful saying: For if we be dead with him, we shall also live with him:
12 If we suffer, we shall also reign with him: if we deny him, he also will deny us:
13 If we believe not, yet he abideth faithful: he cannot deny himself.
14 Of these things put them in remembrance, charging them before the Lord that they strive not about words to no profit, but to the subverting of the hearers.
15 Study to shew thyself approved unto God, a workman that needeth not to be ashamed, rightly dividing the word of truth.
About the Author
Mychal S. Massie is an ordained minister who spent 13 years in full-time Christian Ministry. Today he serves as founder and Chairman of the Racial Policy Center (RPC), a think tank he officially founded in September 2015. RPC advocates for a colorblind society. He was founder and president of the non-profit "In His Name Ministries." He is the former National Chairman of a conservative Capitol Hill think tank; and a former member of the think tank National Center for Public Policy Research. Read entire bio here