Word of God or Constitution – Sunday Thought For The Day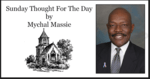 I accepted Christ as my Lord and Savior in August of 1982.  The one constant throughout my life before I was saved and after I was saved has been my unwavering belief in the reality of my Triune God and the inerrancy of Scripture. I cannot explain it, except to say God had His hand upon my life in a way that even today still mystifies me, which brings me to our topic today.
Before I accepted Christ, my life was one uninterrupted train-wreck.  I lived to sin.  I was consumed by the desire to lead a sinful life.  But, based upon my personal humanistic standards of self-righteousness and societal standards, I wasn't a sinner – I was a normal young man.   The only line I wouldn't cross was to use the Lord's name as a vulgar expletive people so freely utilize it today.
I accepted the Lord on a Tuesday afternoon while reading a book that spoke about the Holy Spirit.  I remember literally calling out to God, saying: "I want what's in this book," and praying to receive Christ into my life.  From that moment forward my life has never been the same.  It hasn't been perfect by any sense of the imagination.  But, I have never wavered in my absolute belief in the Godhead and inerrancy of Scripture.
We expect the unsaved to be unbelievers and biblically illiterate.  But, how can so many who claim to be Christians do not believe every word of the bible?  How can so many today be biblically illiterate?  How can one claim to be a Christian and have unbelief in their hearts when they pray?  How can one claim to be a Christian and embrace carnality more than the Word of God?  How can one claim to be a Christian and embrace their own humanistic standards of self-righteousness juxtaposed to endeavoring to live Spirit-filled Christ-centered lives in obedience to God's Word?  How can people attend church and memorize scripture, but never apply the Word of God to their life?  These are but a few questions that demand an answer if we claim to be a Christian.
We cannot be Spirit-led Christians while embracing and practicing the sins God condemns.  To believe otherwise is to deceive oneself.  If God didn't suffer the disobedience and self-will of Moses, Abram, Sarai, David, Solomon et al – how can we believe we'll receive a pass?
Satan has deceived many today, but it is Jesus that they call a liar.  Many who claim to be Christians believe in the power and integrity of flawed, unsaved men more than they do the power of God.  Many believe the false teachers preaching social gospels and salvation by government; they put more faith in the Constitution than they do the Word of God.
Which brings me to my final point.  Anyone can say they believe in God; but, without confession, repentance, and belief that Christ is the Son of God, it means naught.
READ:
2 Timothy 2:19-26 KJV
19 Nevertheless the foundation of God standeth sure, having this seal, The Lord knoweth them that are his. And, let every one that nameth the name of Christ depart from iniquity.
20 But in a great house there are not only vessels of gold and of silver, but also of wood and of earth; and some to honour, and some to dishonour.
21 If a man therefore purge himself from these, he shall be a vessel unto honour, sanctified, and meet for the master's use, and prepared unto every good work.
22 Flee also youthful lusts: but follow righteousness, faith, charity, peace, with them that call on the Lord out of a pure heart.
23 But foolish and unlearned questions avoid, knowing that they do gender strifes.
24 And the servant of the Lord must not strive; but be gentle unto all men, apt to teach, patient,
25 In meekness instructing those that oppose themselves; if God peradventure will give them repentance to the acknowledging of the truth;
26 And that they may recover themselves out of the snare of the devil, who are taken captive by him at his will.
About the Author
Mychal S. Massie is an ordained minister who spent 13 years in full-time Christian Ministry. Today he serves as founder and Chairman of the Racial Policy Center (RPC), a think tank he officially founded in September 2015. RPC advocates for a colorblind society. He was founder and president of the non-profit "In His Name Ministries." He is the former National Chairman of a conservative Capitol Hill think tank; and a former member of the think tank National Center for Public Policy Research. Read entire bio here